Product Updates
We're continually working to improve your Kajo experience, here is a summary of what has changed.
Kajo User Guide
Access the user guide directly from within Kajo by clicking the Symbol on the top left
25.4.2023
Simplified category list and search
Simplified category list
The category list was simplified so that all categories are now shown in one central list rather than having them separated by different types (application, process, partner etc).
New category search
As part of simplifying the category list, we also added a search to be able to find the relevant impact category faster
12.4.2023
Deputy Task notifications have arrived 🎉
Updated flag for discussion 🚩
We changed how you can set and remove the flag for discussion on a task. On the task detail view, you can set and remove the flag via the icon on the top right. We also added the flag for discussion to the task list on the bulletin details view.
Updated task list on the bulletin details page
The bulletin details page will show all closed tasks with a dark background. The tasks are now also shown as fully clickable tiles to navigate to the task details.
Deputy Task notifications
We have added a new notification type that will allow users to enable notifications for creating, re-opening and overdue tasks where the user has a deputy role assigned.
Cloud connector improvements
If a task is deleted in Jira, we will remove the link in Kajo on the task details view. Kajo will also comment on the task, and syncing for that task will stop. For tasks in Jira and Service Now, Kajo will upload all documents available on the bulletin itself to the task in the external system. This is relevant for bulletins with multiple amendments (effective dates) and those bulletins that contain several documents.
Kajo Early Access Program
We have launched the Kajo early access program, allowing a limited set of customers to access new features before the launch. You may encounter the occasional bug but we will be very curious to get your feedback in order to improve the features before we launch to the broader audience. If you want to join this program, contact us via our standard email address. The early-access customers will soon be contacted to get access to the following: - Audit Trail - Self-Servicing feature to delete users, change first and last names, add/remove primary user functions, add/remove deputy user functions, trigger a password reset and change a user's role.
23.2.2023
New module: References
References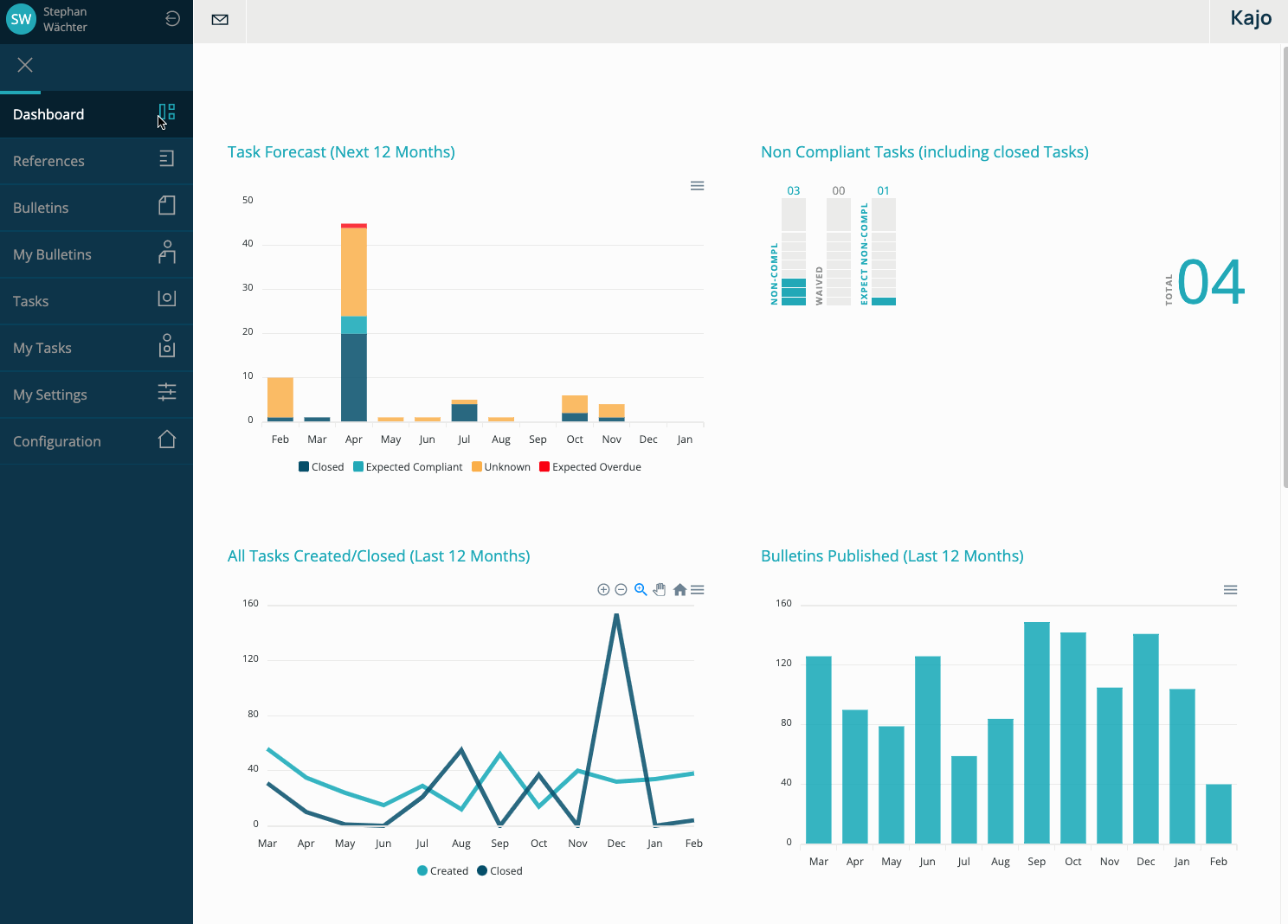 We finally launched the beta version of the new references module in Kajo. Out of the box, the references module contains all rules, guides, manuals and best practice documents that Mastercard and Visa publish. You will find a new menu item Kajo called "References", through which you can access the complete list of reference documents. The comprehensive filter allows you to narrow the search with text or by selecting specific criteria. These criteria include the scheme, type, date, brand and audience. In addition, we also flagged each reference publication with the relevant impact categories of your organisation to make it even easier for you to find the relevant content. The reference detail view gives you the basic metadata of each publication and allows you to open the original document that the schemes published. The beta version is available now, and we will continue to evolve the feature with many additional improvements in the coming months.
8.2.2023
Bulletin version banner
Bulletin version banner
We made it more visible in Kajo if you are viewing an older version of a bulletin by showing a bright orange banner on top of older versions. By clicking the banner you will jump to the newest bulletin version
Deletion of external tasks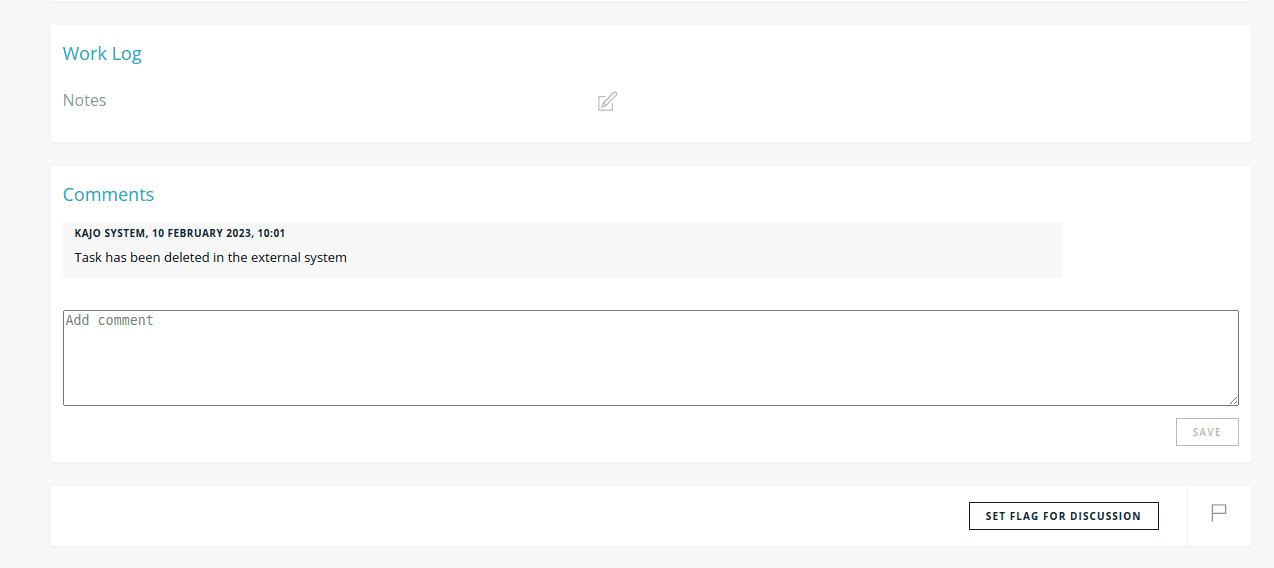 Kajo supports the creation of external tasks in Snow and Jira. If a task in the external system is deleted, then Kajo no longer gets updates for these tasks. To make this visible to users, Kajo will now show a specific comment on such tasks and stop the sync process.
User Function renaming
We added support to be able to rename user functions. At the moment, such a change can only be done via a support ticket, but we plan to offer this functionality in Kajo directly as part of a broader effort to introduce self-servicing.
25.1.2023
External task links
External task links
We added support for Kajo tasks to show a link to the Jira ticket
Publication Date in daily e-mail
Bulletin events in your daily email digest will now also show the scheme publication date
11.1.2023
Happy New Year 🎉
Full tile is clickable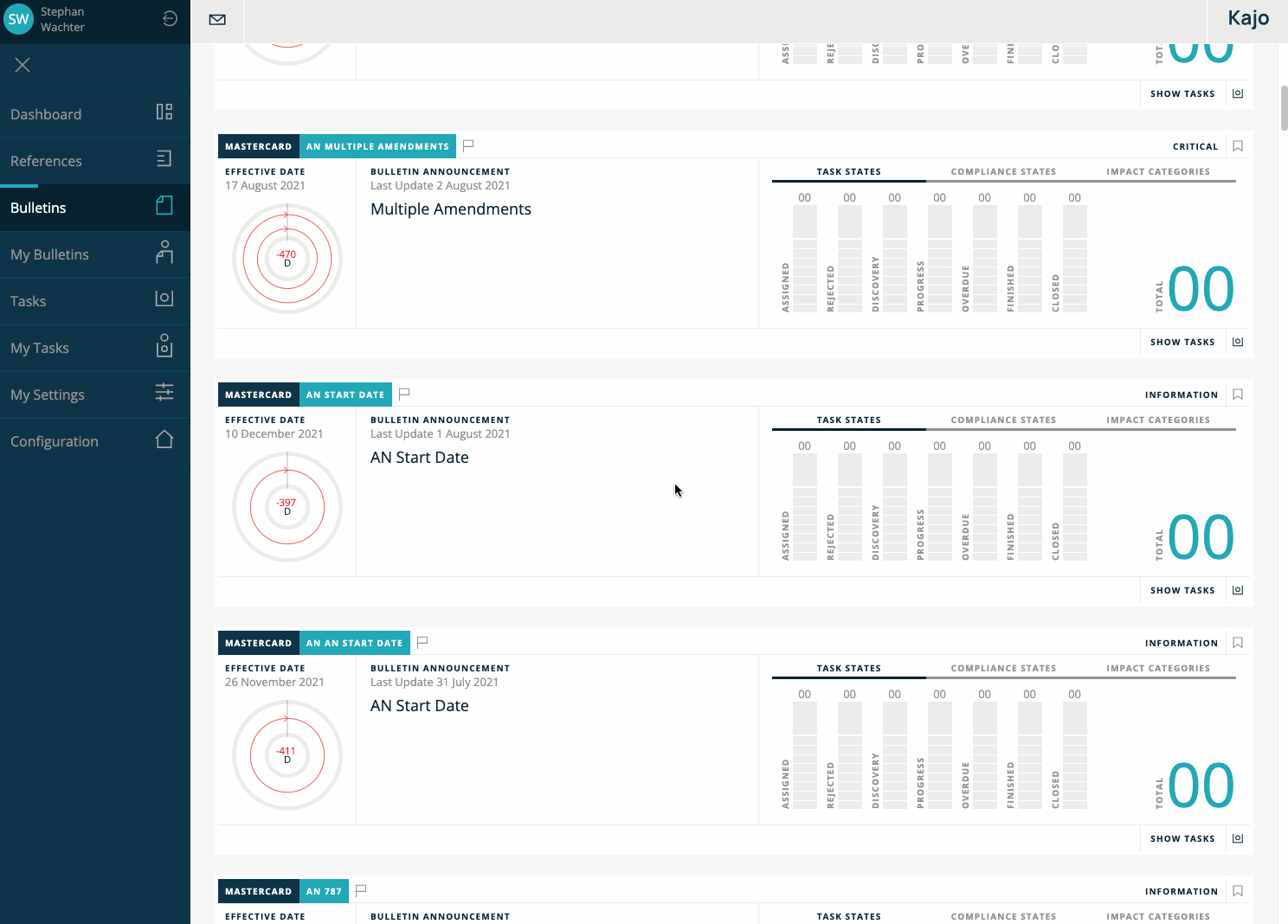 So far, you can only jump into bulletin or task details by clicking on the narrow arrow part on the far right of task or bulletin tiles. We changed this approach and made the full tile clickable, thus making it easier to navigate to the detail view. Existing links and functionality on the tile are still supported (e.g. opening the task sub-menu on the bulletin tile) On top of making the full tile clickable, we also make it more visible, which tile is currently hovered over, by adding a light blue outline.
Improved visibility for bulletins with multiple effective dates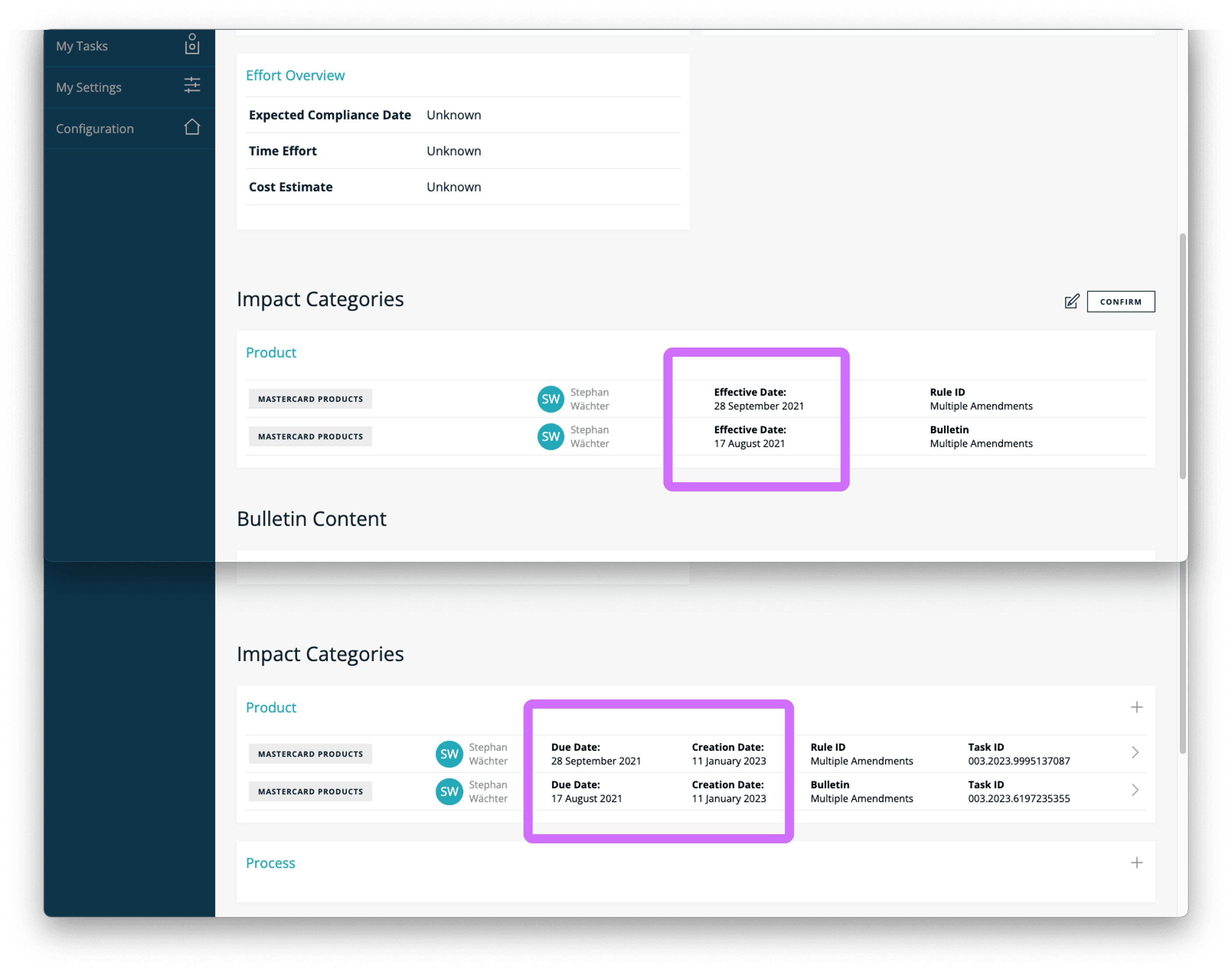 Bulletins with multiple effective dates can sometimes confuse, especially if the same impact category is affected by both effective dates. In the past, this sometimes was misjudged to be a duplicate entry. To prevent such confusion, we have added the effective date to pre-selected impact categories shown during the bulletin confirmation view. In addition, we added the due date and creation date to the list of tasks in the bulletin detail view to add more clarity.
American Express added as new Scheme

The Kajo customer base is growing fast, which means we also grow the number of schemes our customers have in their portfolio. We are happy to announce that Kajo now supports seven schemes. American Express joins the existing brands that Kajo supports: Mastercard, Visa, Union Pay, JCB, Diners Club and Bancontact.
Additional Improvements
- When a task is closed that has an active "Flag for Discussion", then Kajo removes the flag automatically - We added the right mouseclick and support for "open in new tab" for the tasks in the task drop-down list that can be opened on bulletin tiles in the bulletin list view. We also added the same support for the task overview list shown on the bulletin detail view - We fixed a problem with the mapping of Jira epic states to the Kajo task states - We fixed a problem that sometimes caused an error when adding or changing the task compliance date
14.12.2022
Open tasks in new tabs
Open tasks in new tabs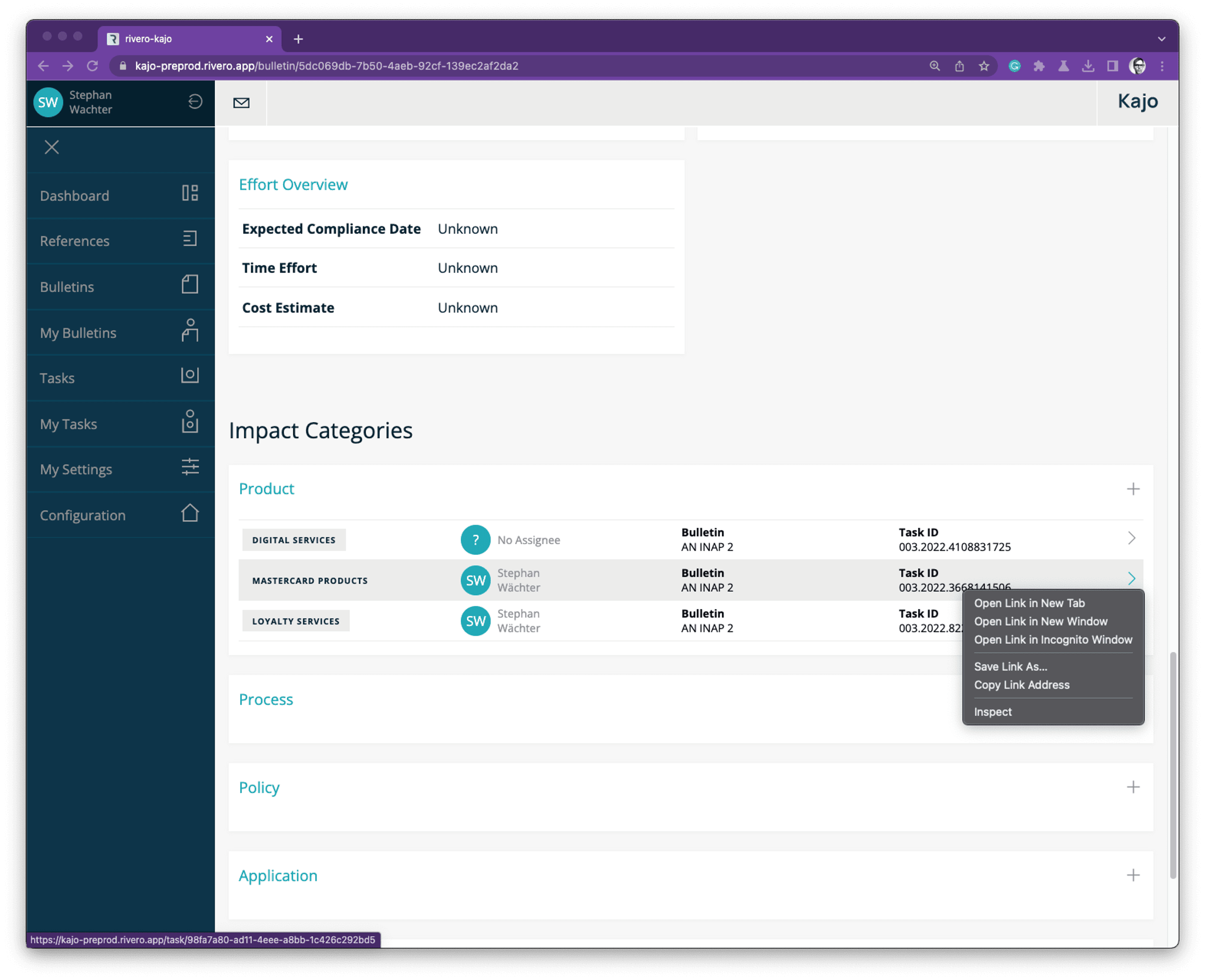 Any task can be opened in the same tab with a left mouse click. In addition, we now enabled the possibility to do a right mouse click and open the task details in a new tab.
Framework improvement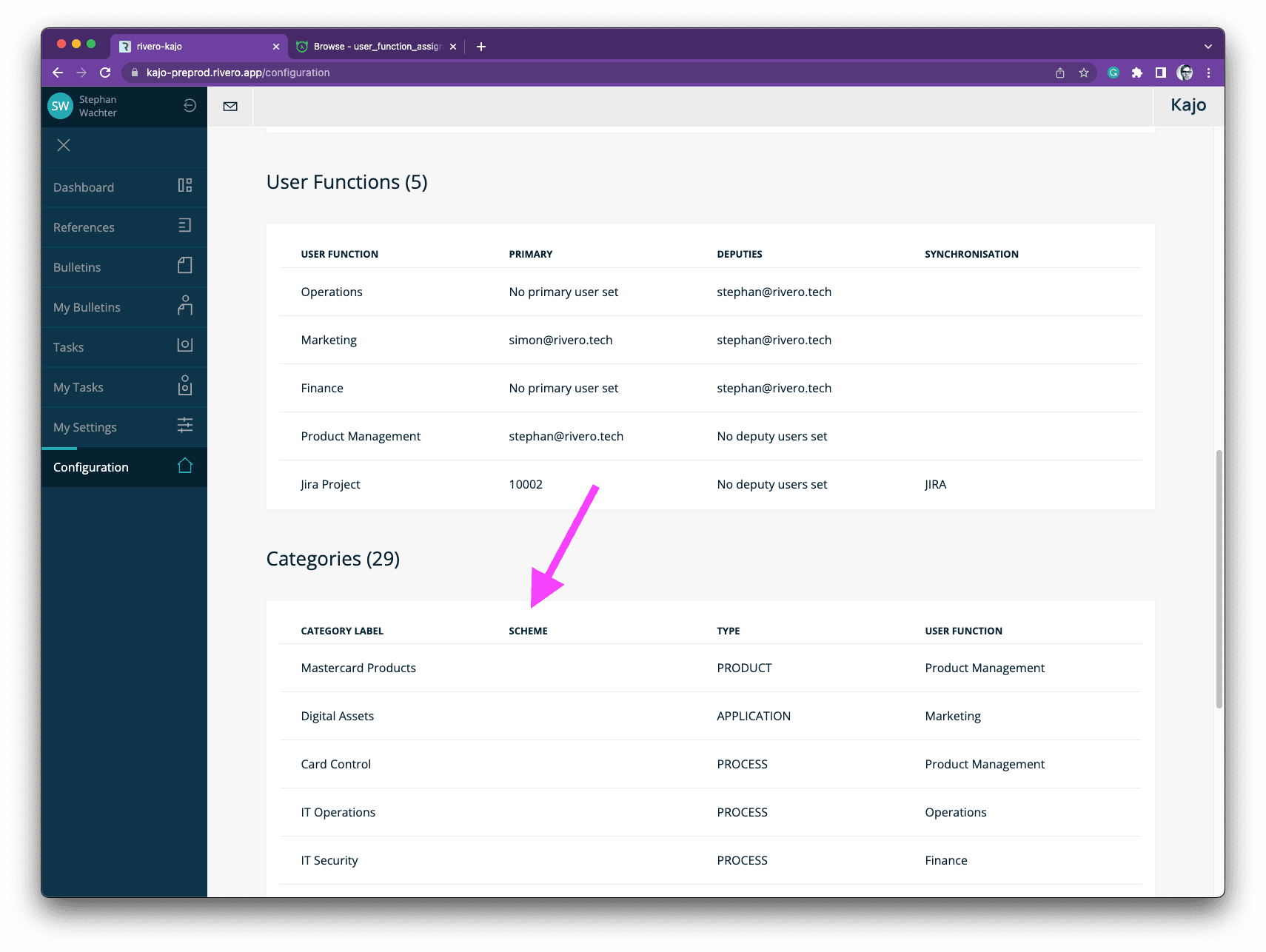 We added the first component in the UI that will allow us to make impact categories linked directly with a specific scheme. This will enable Kajo in the near future to account for scheme-specific groups/departments within an organization and only pre-select tasks if there is a matching scheme from the bulletin itself and the tenant category.
30.11.2022
Select multiple categories at once during bulletin confirmation
Multi-category selection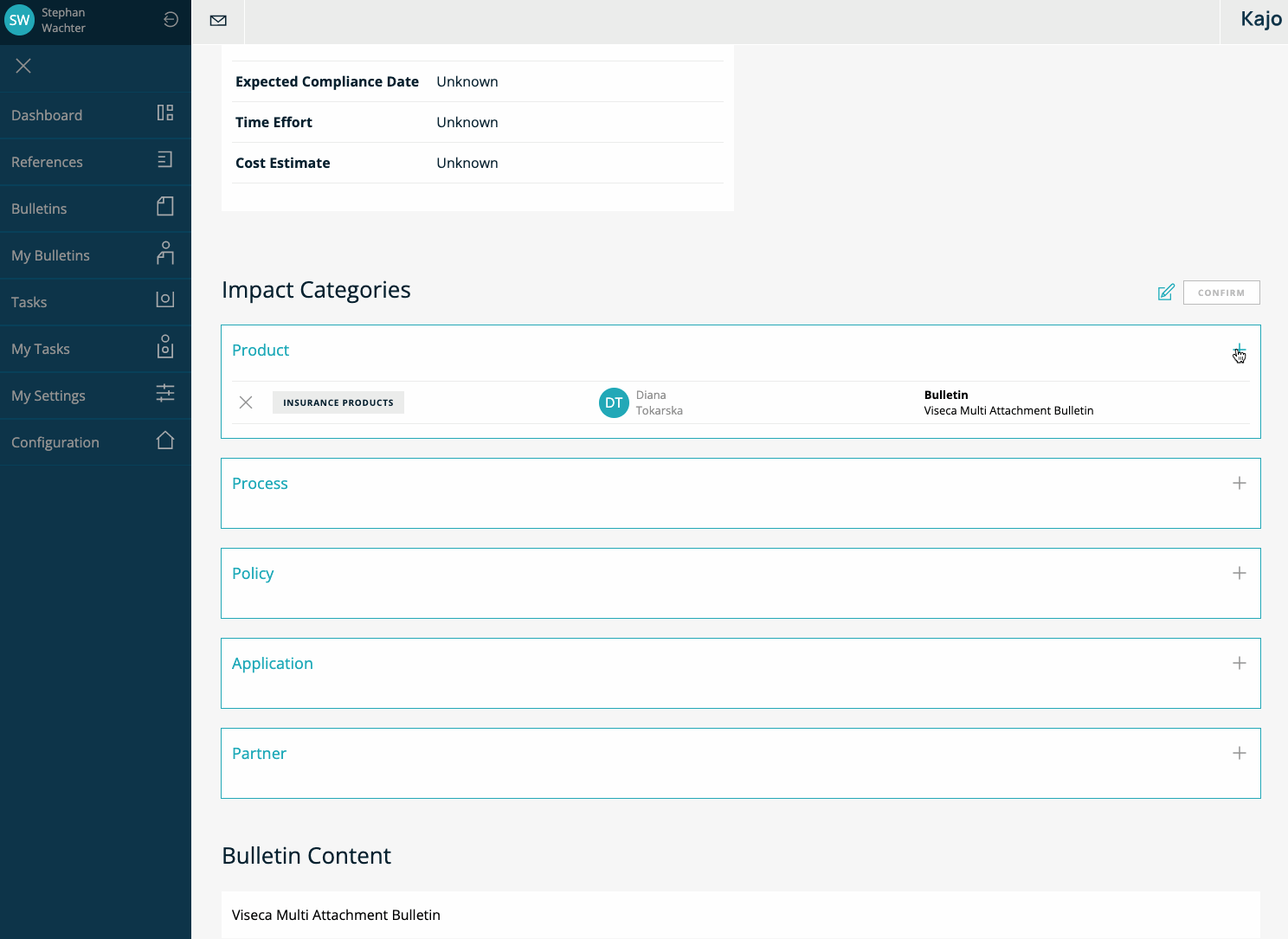 You told us how annoying it is only to select one category at a time during bulletin confirmation, and we listened. Kajo presents Multi-category selection during bulletin confirmation. In addition, we support the same functionality when creating tasks after a bulletin has already been confirmed.
We added some magic to the bulletin keyphrase search 🕵🏼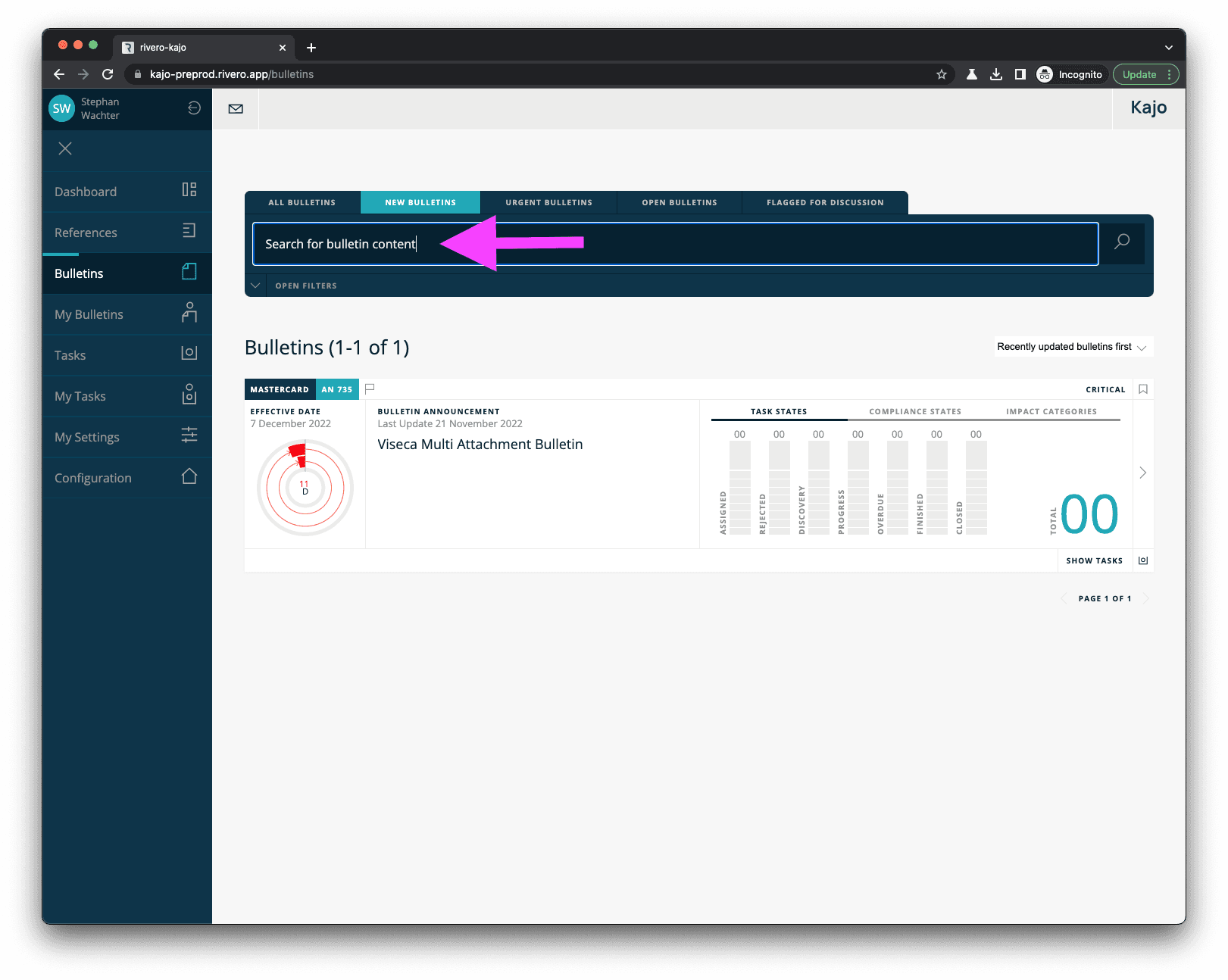 The bulletin search already checked the metadata of the bulletin, for example, the number, summary or title. On top of this, the search can now also find the keyphrase that you add to the search bar within the bulletin content. Please note that this initial version only searches for the exact words and order that you add to the search bar.
16.11.2022
Four new schemes have arrived 🤯
The four new schemes 💳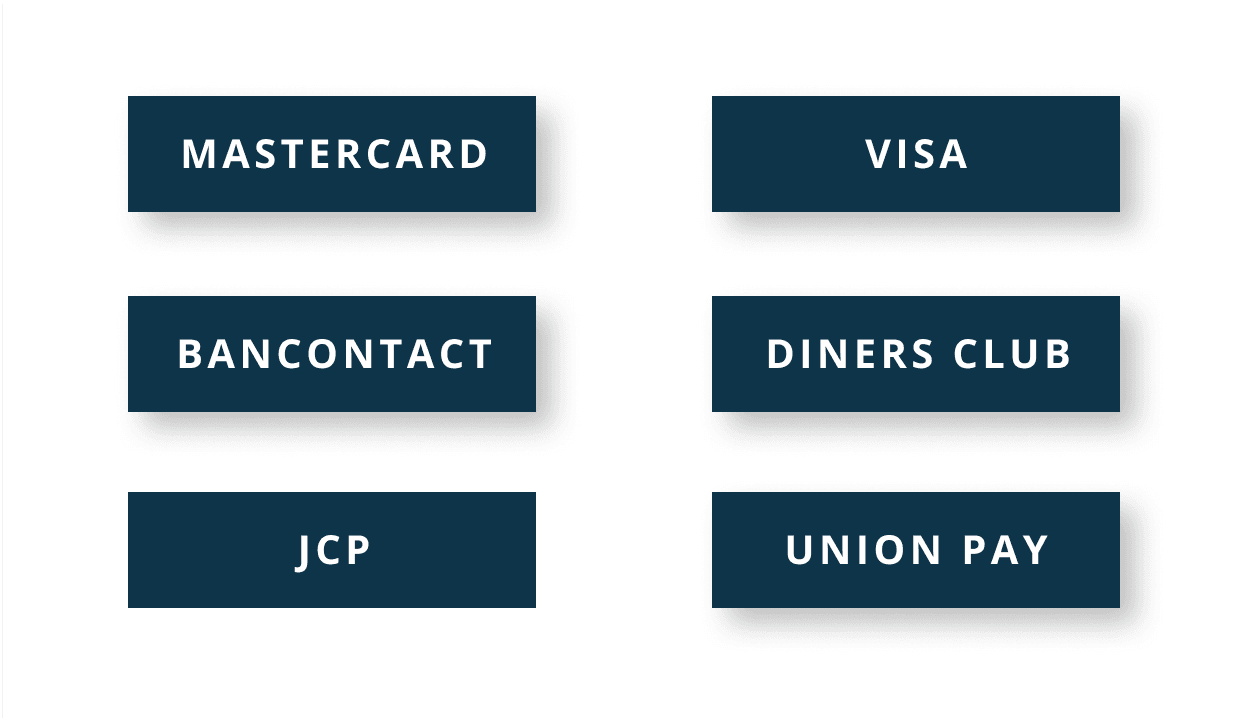 The Kajo customer base is growing fast, which means we also grow the number of schemes our customers have in their portfolio. We are happy to announce that Kajo now has six schemes in total. In addition to Mastercard and Visa, Kajo can now manage rule changes from UNION PAY, JCB, DINERS CLUB, BANCONTACT.
Jira Cloud App Connector
We added support for multiple documents per task for the Jira Cloud App Connector.
4.11.2022
Enhancements for the app connectors
Enable task syncing for existing tasks
We enabled the functionality to sync existing tasks with our app connectors for Jira Cloud and Service Now. This allows existing tasks to be synced with the supported third-party apps
Jira Cloud improvements for comments
We made the comment sync between Kajo and Jira more resilient. Most of the formatted text that users can add to a Jira Cloud comment will now appear in Kajo
19.10.2022
Turn the page 📖
Pagignation 📖 is here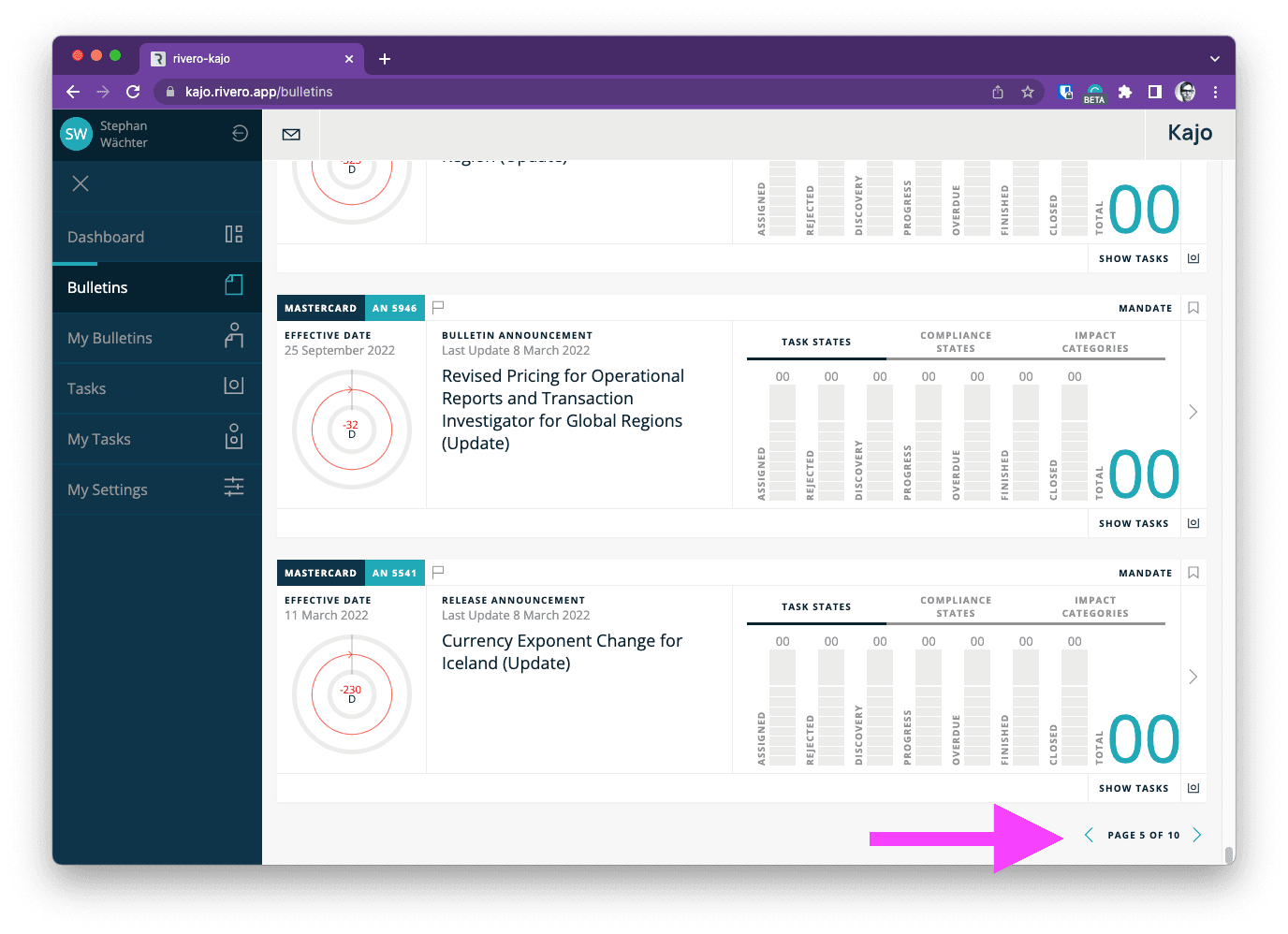 With pagination, you can jump to the next page if you reach the bottom of the bulletin or task list. Each page contains 100 entries. Use this new feature to access the so far hidden world of bulletins and tasks #101+ 😉
Bugfix: Opening non-pdf documents in a new tab
Opening non-pdfs in a new tab works now without issues
Autopliot: Auto-close
We have shipped the first of a set of autopilot features: Auto-close. If activated, tasks that are finished will automatically be moved to the closed state without needing an SCM interaction.
5.10.2022
Jira cloud ☁️ connector launched
Jira cloud connector MVP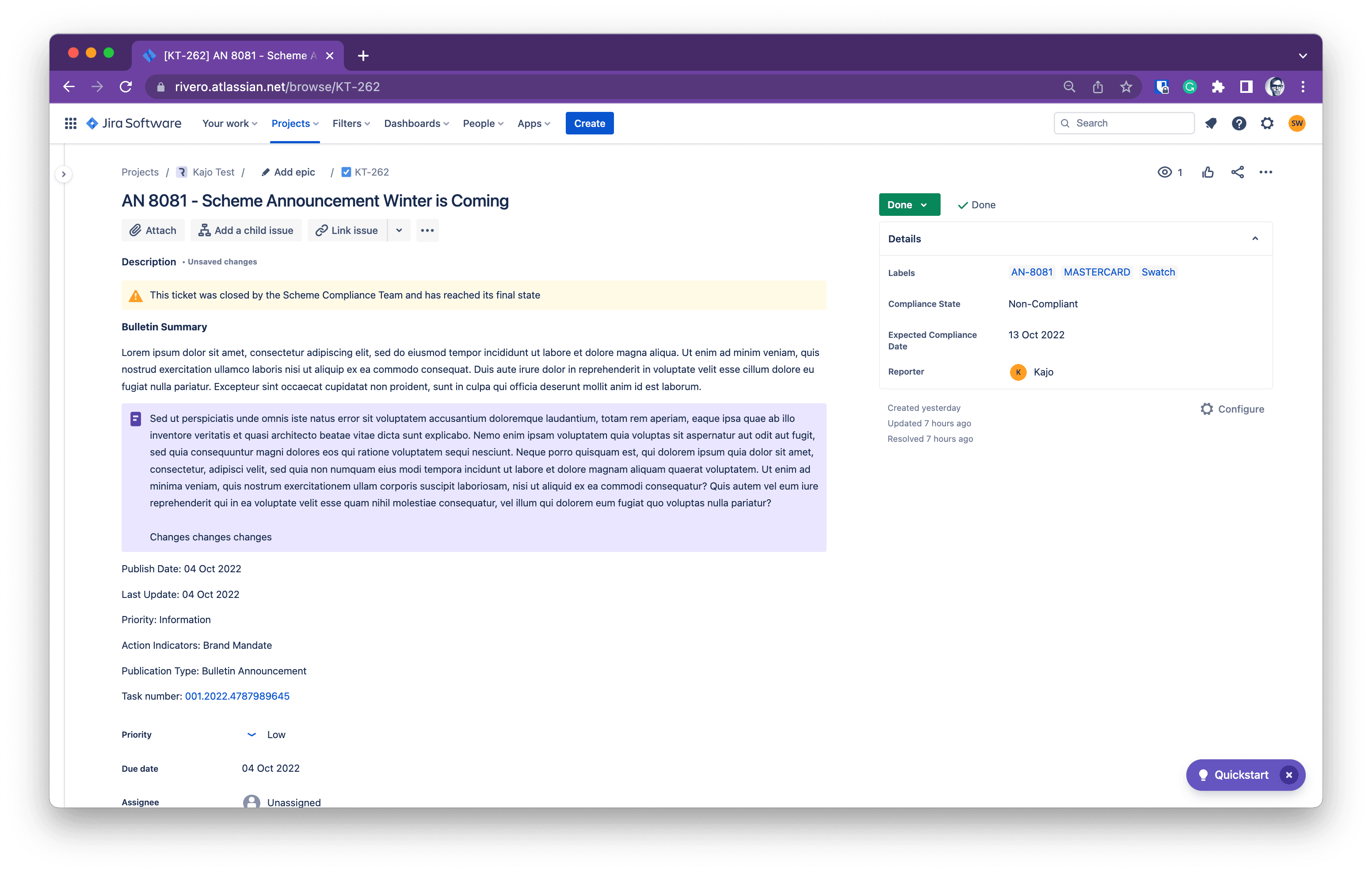 The new Jira cloud connector extends Kajo task management to support groups that do not have access to Kajo and work in Jira Cloud. With the MVP version, it is possible to create dedicated tasks in Kajo and push them to specific Jira projects. The state and comments are synched and updated regularly. If you are interested in benefiting from this new connector, then get in touch with us and we tell you more.
Bugfixes
A bug prevented documents other than PDFs from being opened when clicking on the file name. With the fix, Kajo will either open the non-PDF file as a download or in the browser if supported. Some notification types were not available to some roles. We changed this and made sure that all roles have the correct notification types selectable. Our engineers (powered by coffee and corn crackers) also worked hard to add further performance improvements to all Kajo tenants.
7.9.2022
Overdue Notifications have arrived 🔔
Bulletin and Task Overdue Notifications
Kajo has two new notification types that can be selected: Bulletin Overdue and My Task Overdue. If selected then the user will get a notification in the digest e-mail if the effective date of the bulletin or the due date of the task has been reached.
Allow the SCM to add tasks for all category types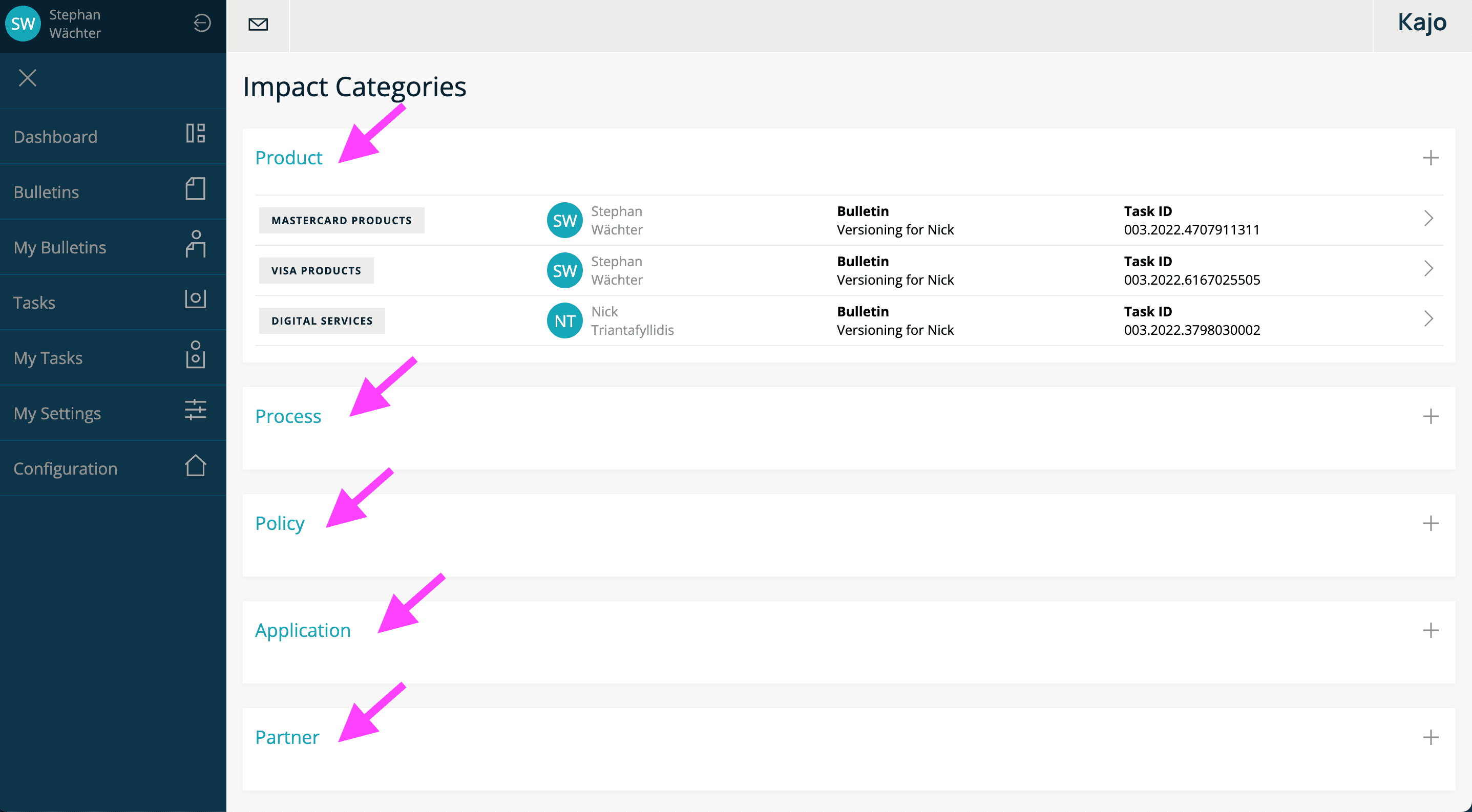 We enhanced the "add task" feature so that an SCM user can now also add a task for a category type (Product, Process, Policy, Application or Partner) in case there haven't been any tasks added under that section yet. To add a task under any given category type section, it is required that a related tenant category exists in the framework
New "Scheme" filter for the task list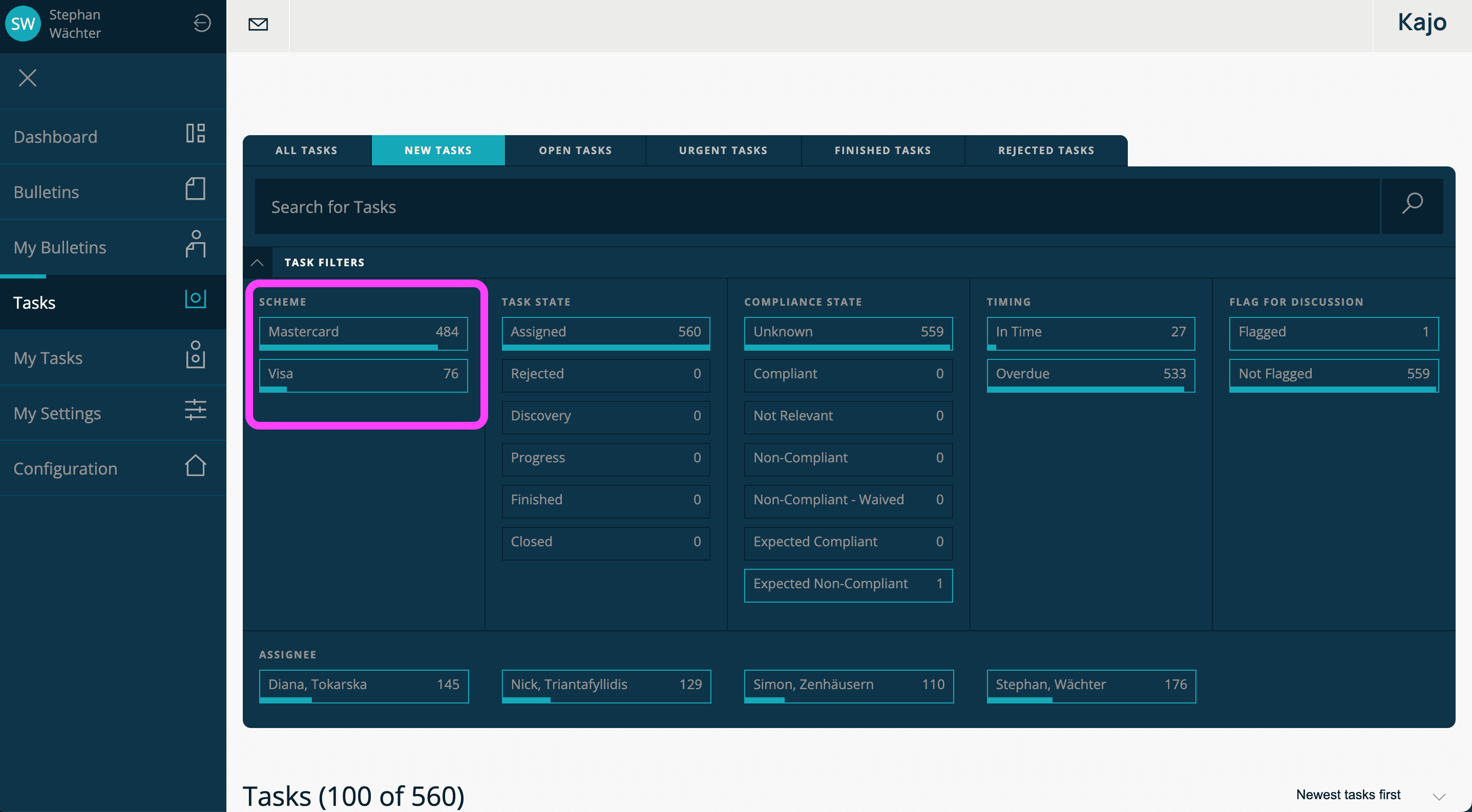 We enhanced the task list filter and added support to filter based on the available Schemes
The Work Log Notes field has been disabled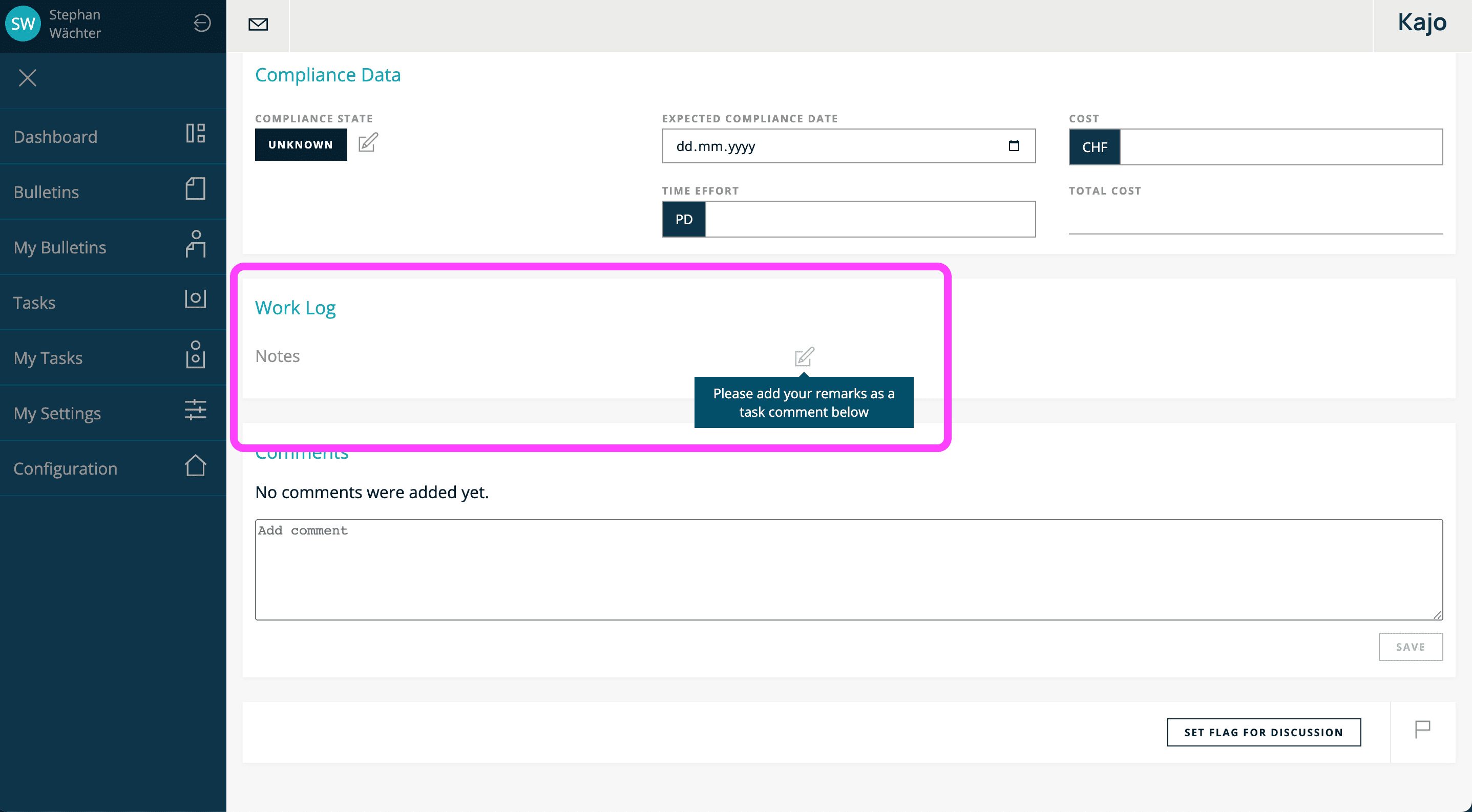 The Work Log Notes field can no longer be edited. The content is still shown, and we will keep the audit trail intact. The Work Log Notes have been superseded by the comments feature
24.8.2022
Filter menu improvments
Filter showing "loading" and performance improvements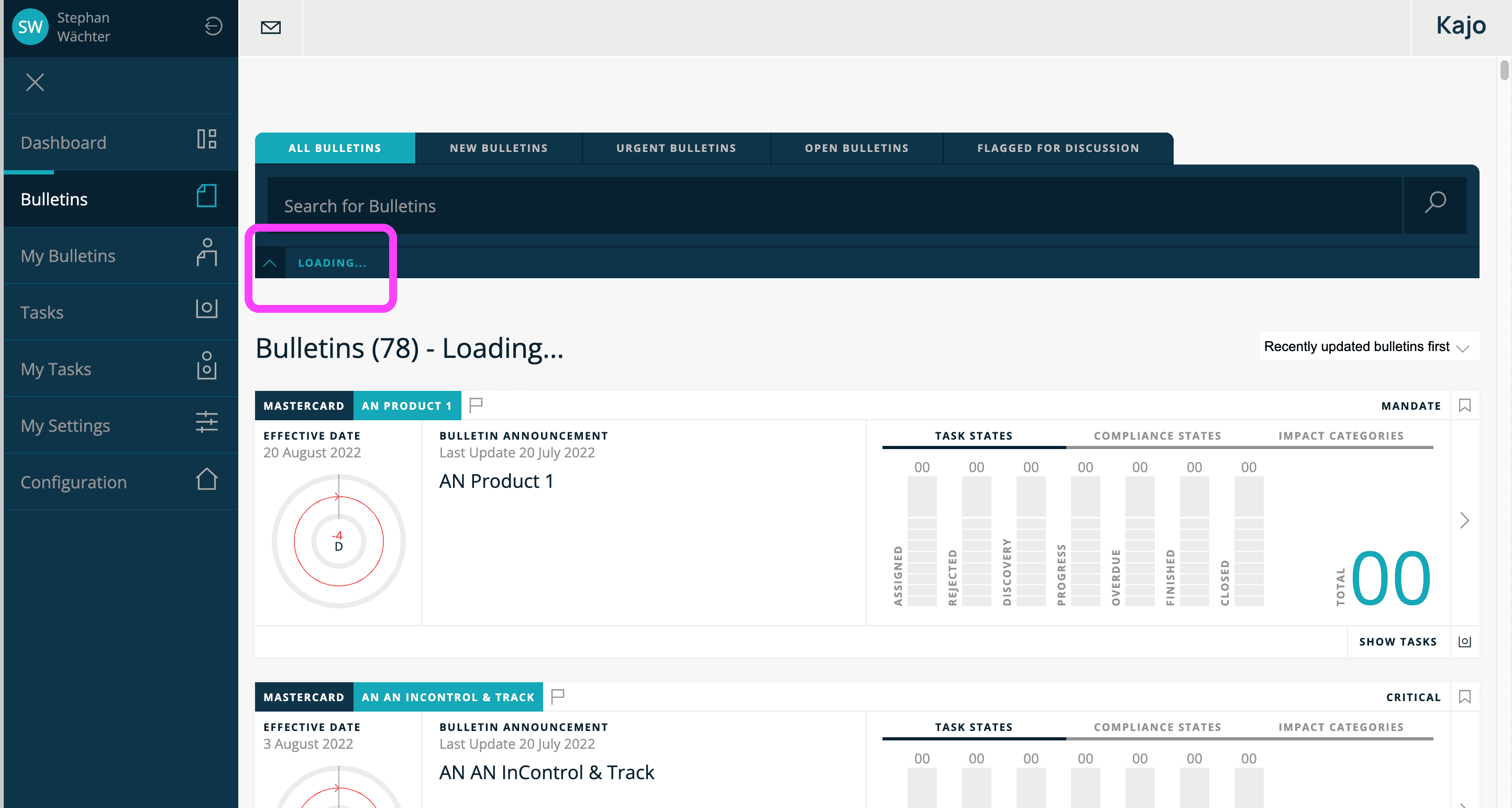 As Kajo grows, more and more bulletins and tasks are added. This means that showing the advanced filter menu can take a bit. To make this clearer for users, we added a loading text so that you know that Kajo is still loading all the content in the background. In addition, we enabled indexing to speed up the performance of Kajo
Replace the user function of a task
We added a new operation in the background that lets us manually replace the user function of a task. We use this as a support operation in case there is a special circumstance (e.g. reorganization) that would require such change.
Filter for the bulletin publication or effective date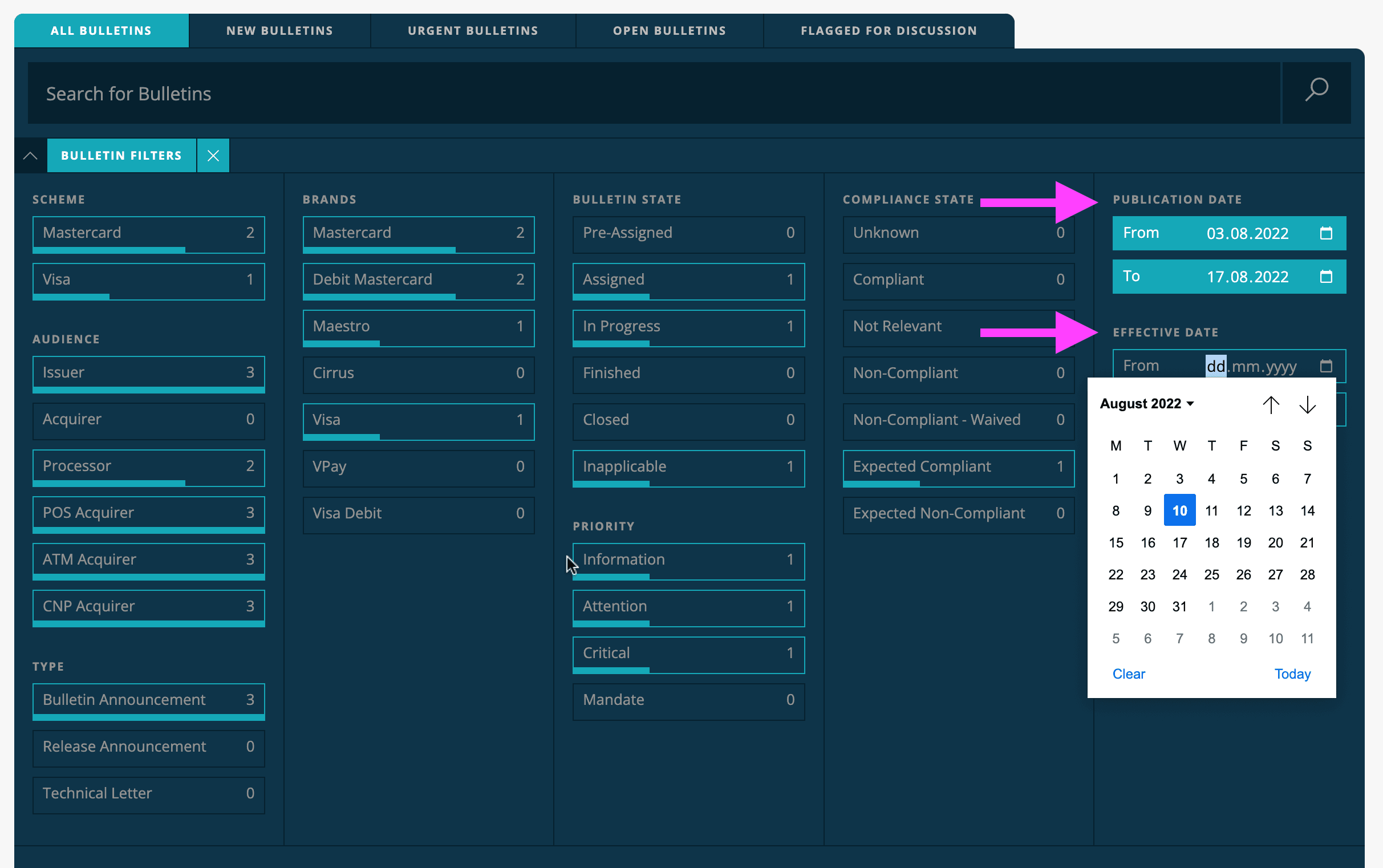 The filter for the Bulletin or My Bulletin list lets you now select a date range to filter for the publication date and the effective date of a bulletin.
27.7.2022
New config value: Products
New config value: Products
We added a new configuration value to determine better which bulletins are relevant for you as a customer. Customers will be contacted to identify the relevant products for their tenant configuration. The full list of supported products: Commercial Cards (All) Private Label (All) Fleet Cards (All) Instalments (All) Virtual Cards (All) Account Level Management (All) Click to Pay (All) Cloud Based Payments (All) Visa Loyalty (Visa) Strategic Alliance (Visa) B2B Payments (Visa) Authorization Gateway (Visa) Smart Account Verification Service (Visa) Visa Spend Clarity for Business (Visa) Visa Spend Clarity for Enterprises (Visa) Visa Transaction Controls (Visa) Pay and Get Rewards (Mastercard) InControl (Mastercard) InControl for Business Travel (Mastercard) InControl for Commercial Payments (Mastercard) SmartData (Mastercard) Track (Mastercard) Clearing Optimizier (Mastercard) QR Payment (Mastercard) Travel Rewards (Mastercard) Airport Experiences (Mastercard) Wholesale Travel Program (Mastercard) Pay by Account (Mastercard) Insights (Mastercard) Decision Intelligence (Mastercard) Send API (Mastercard) Open Banking (Mastercard)
Improving bulletin confirmation time
We introduced caching to improve the bulletin confirmation time by a factor of 10.
Deactivating the work log notes
Several months ago we introduced the comments feature. The comments feature is an improved version of the work log notes; therefore, we will deactivate the editability of the work log notes as part of the next release. Work log notes will remain visible, and we will never delete any data added to that field to ensure the audit trail.
13.7.2022
The big summer release 😎
Create new tasks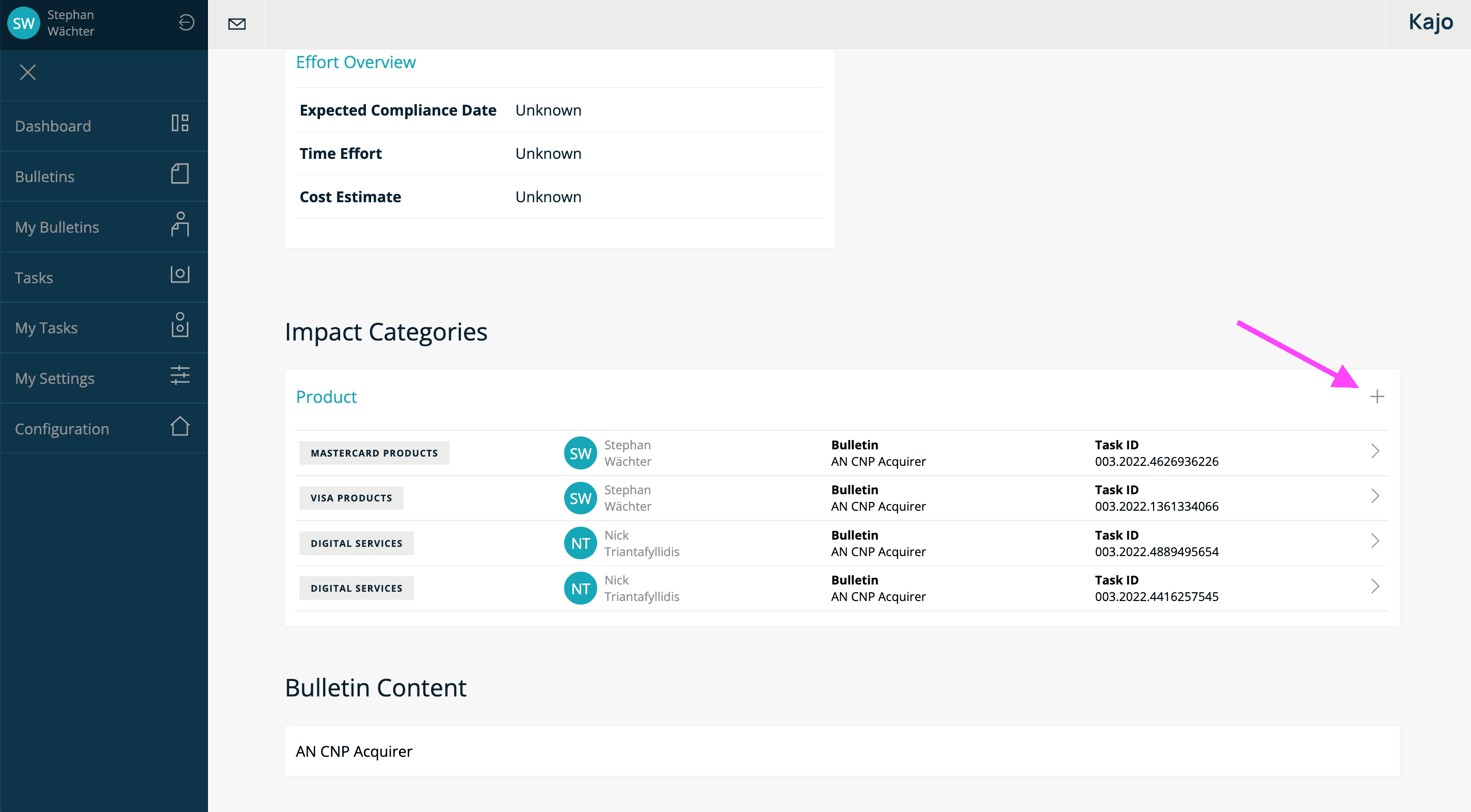 The long-awaited and heavily requested functionality to create new tasks after a bulletin has already been confirmed is finally here. You can create new tasks at any time after a bulletin has been confirmed. You can also create multiple tasks for the same category. This is helpful in cases such as when a task was closed by mistake. To use this new feature, just navigate to the bulletin details. In the section Impact Categories, you can click on the + icon on the top right of each group of categories. This will open a window to select a category and immediately create a new task.
New filters for the bulletins list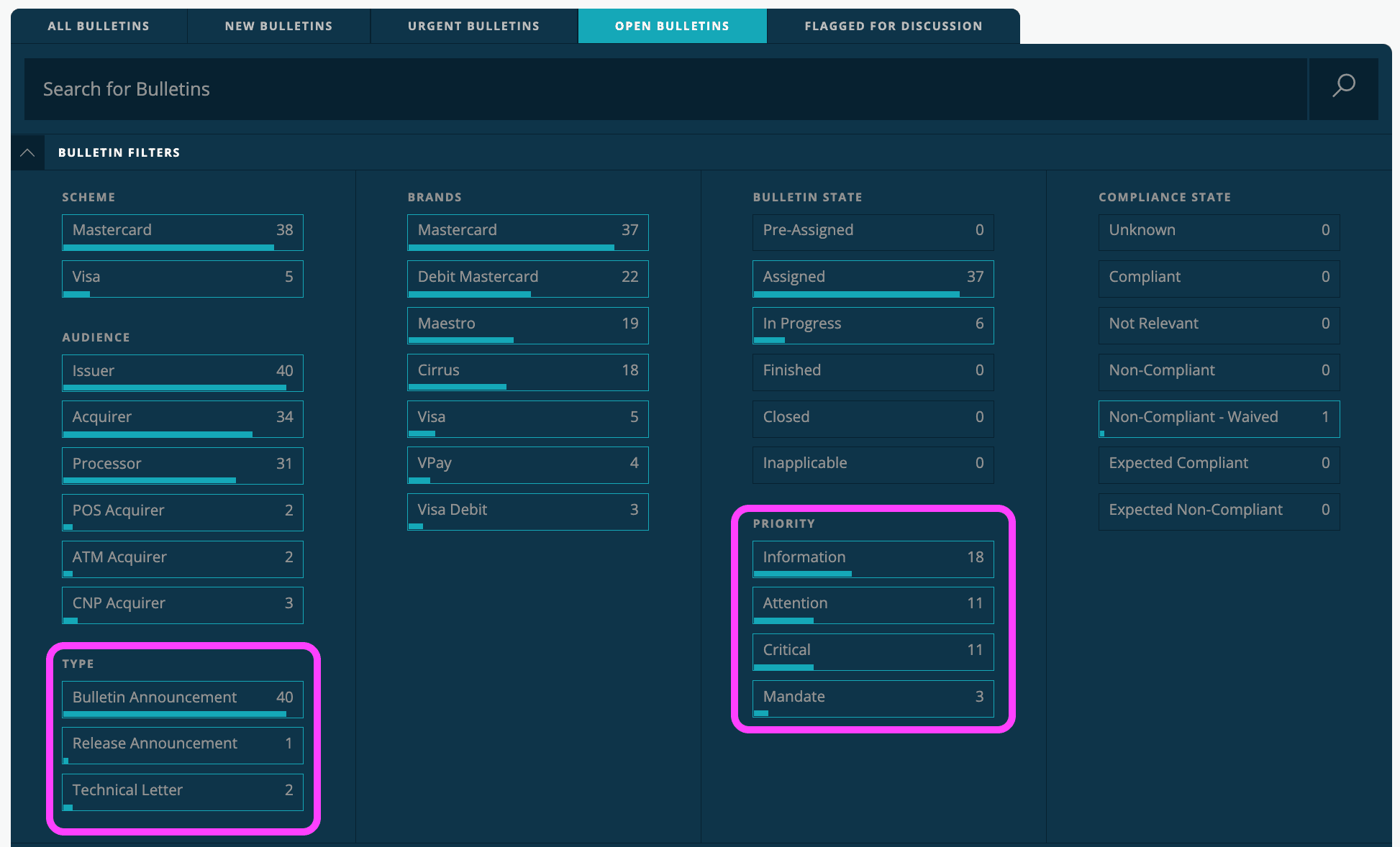 We added two more filters to the Bulletins and My Bulletins list so that you find what you are looking for more easily. The new filters are: - Type of the bulletin (e.g. Technical Letter) - Priority
No more e-mail flooding 🥳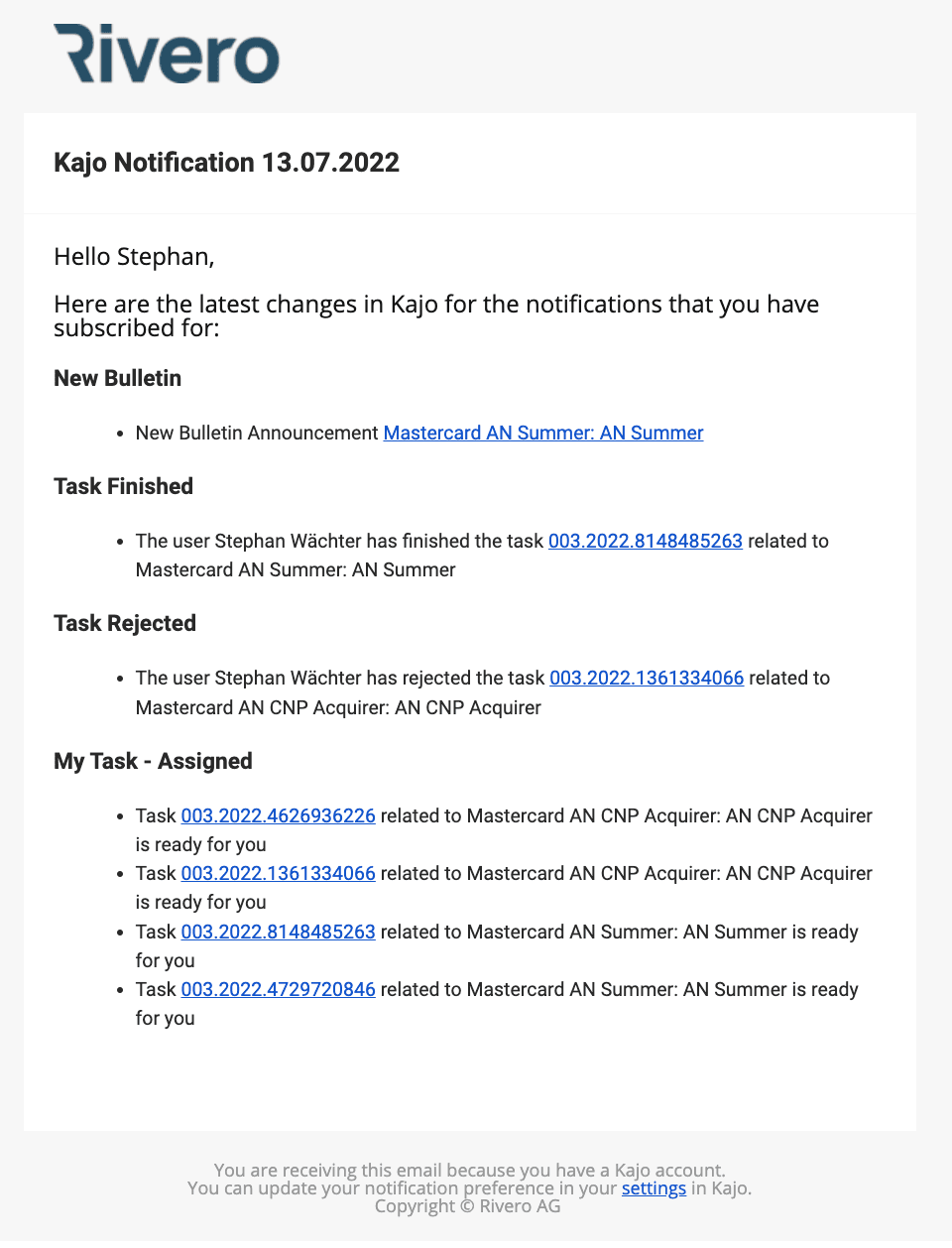 We moved away from sending a single e-mail per event and implemented a daily batch email that will notify you in the morning about what has happened in the last 24h. The daily e-mail is processed at 06:30 and sent at 07:00 in the morning. The e-mail covers all events from the last 24h for which the user has subscribed for.
New values for the Acquirer configuration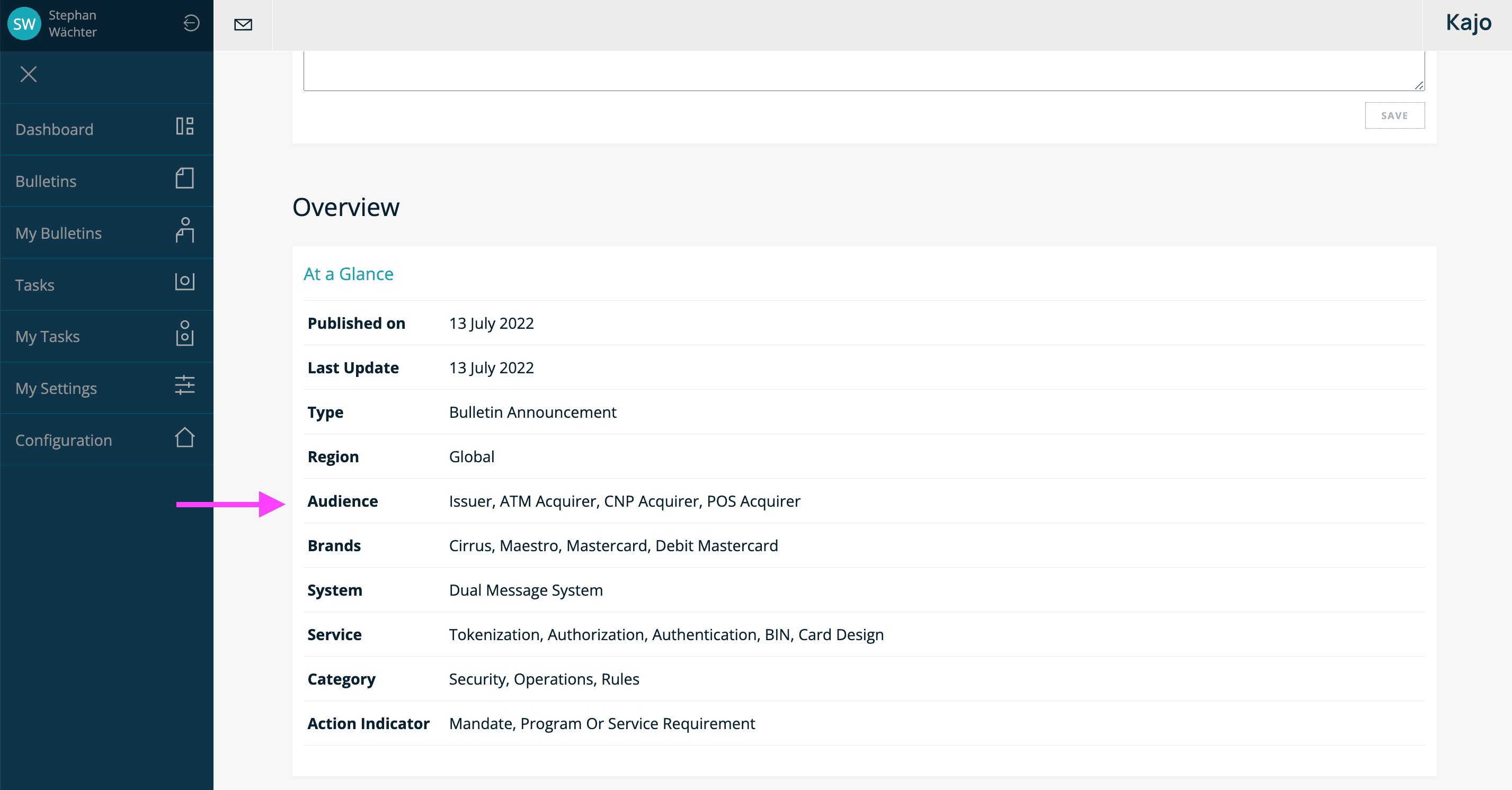 Each bulletin in Kajo has an Audience tag. This value indicates if a bulletin is relevant for an Issuer, Acquirer or Processor. From customer feedback, we learnt that the Acquirer value is too broad and sometimes results in bulletins being marked as relevant when they are not. To be able to detect the applicability of a bulletin better, we have replaced the tag Acquirer with three new values: - POS Acquirer - ATM Acquirer - CNP Acquirer (Card not present)
6.7.2022
Open documents in new tab
Open documents in new tab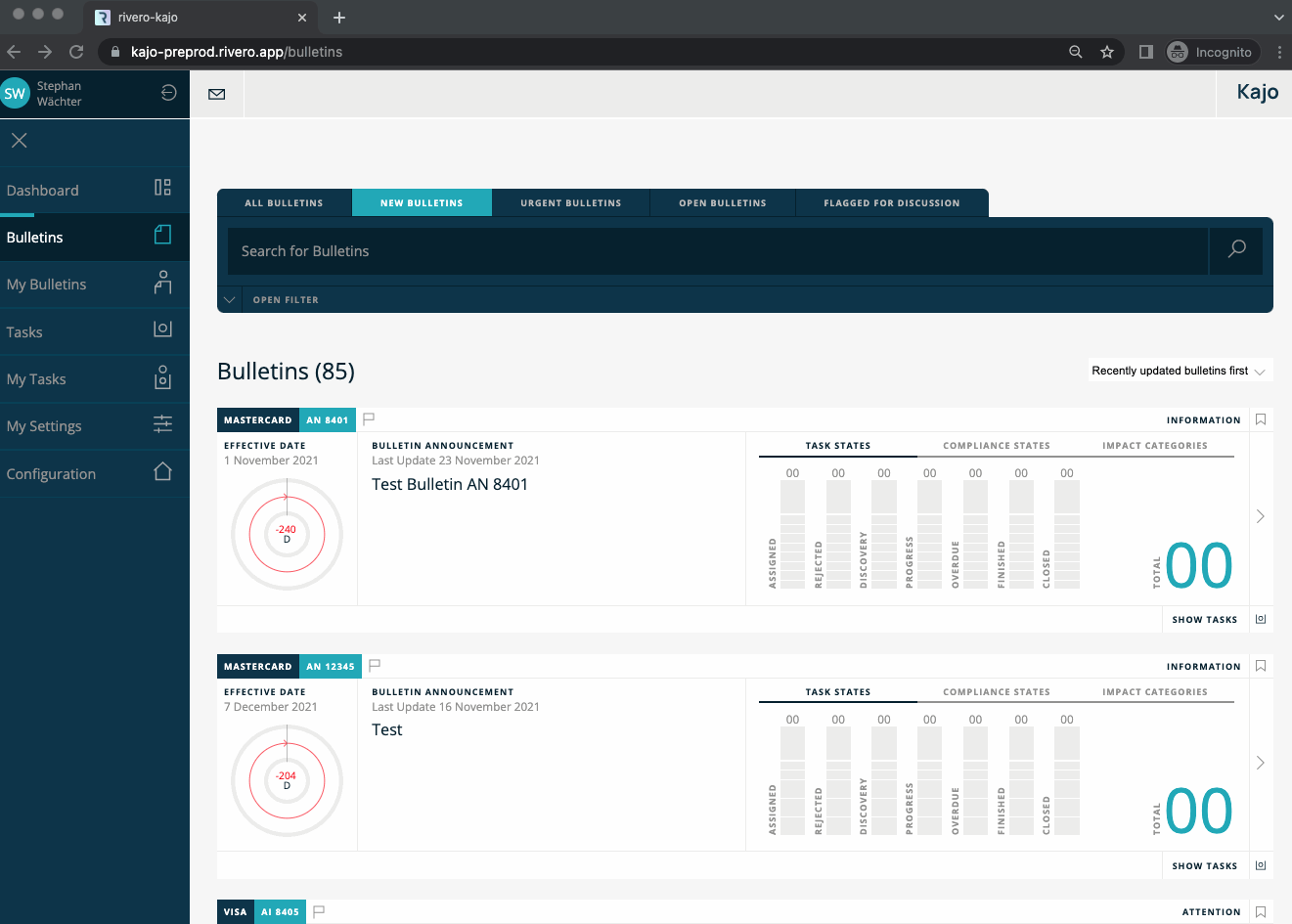 You now have two options for how you can retrieve publication documents in Kajo. Either choose to download the document or open it directly in your browser in a new tab.
New values for the publication tag Services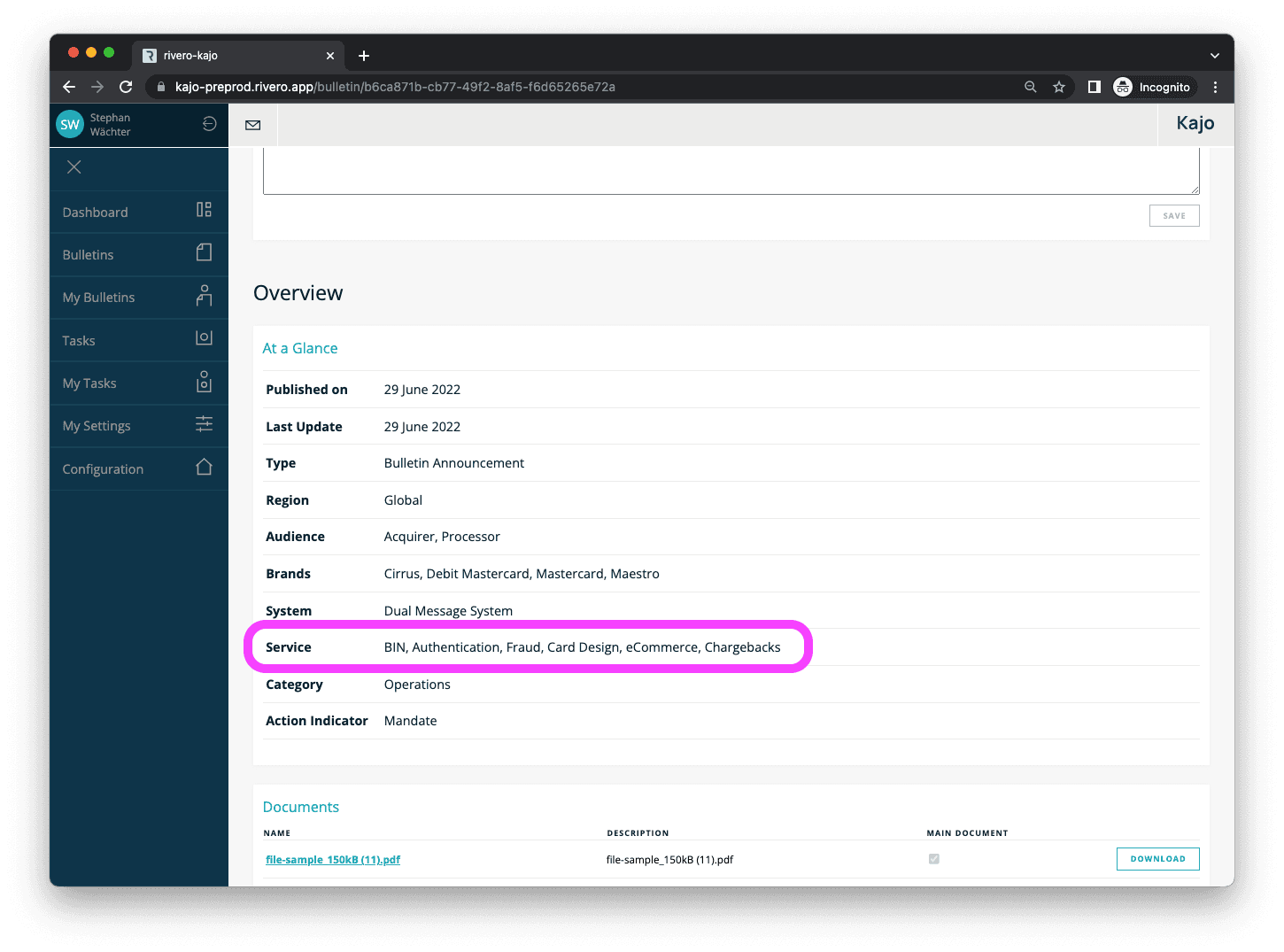 We added additional values to better categorize scheme publications. The new values are Authentication, Card Design, BIN, Fraud and eCommerce. In addition, the existing value "Chargeback Application" has been renamed to "Chargeback"
Improving issues with bulletin confirmation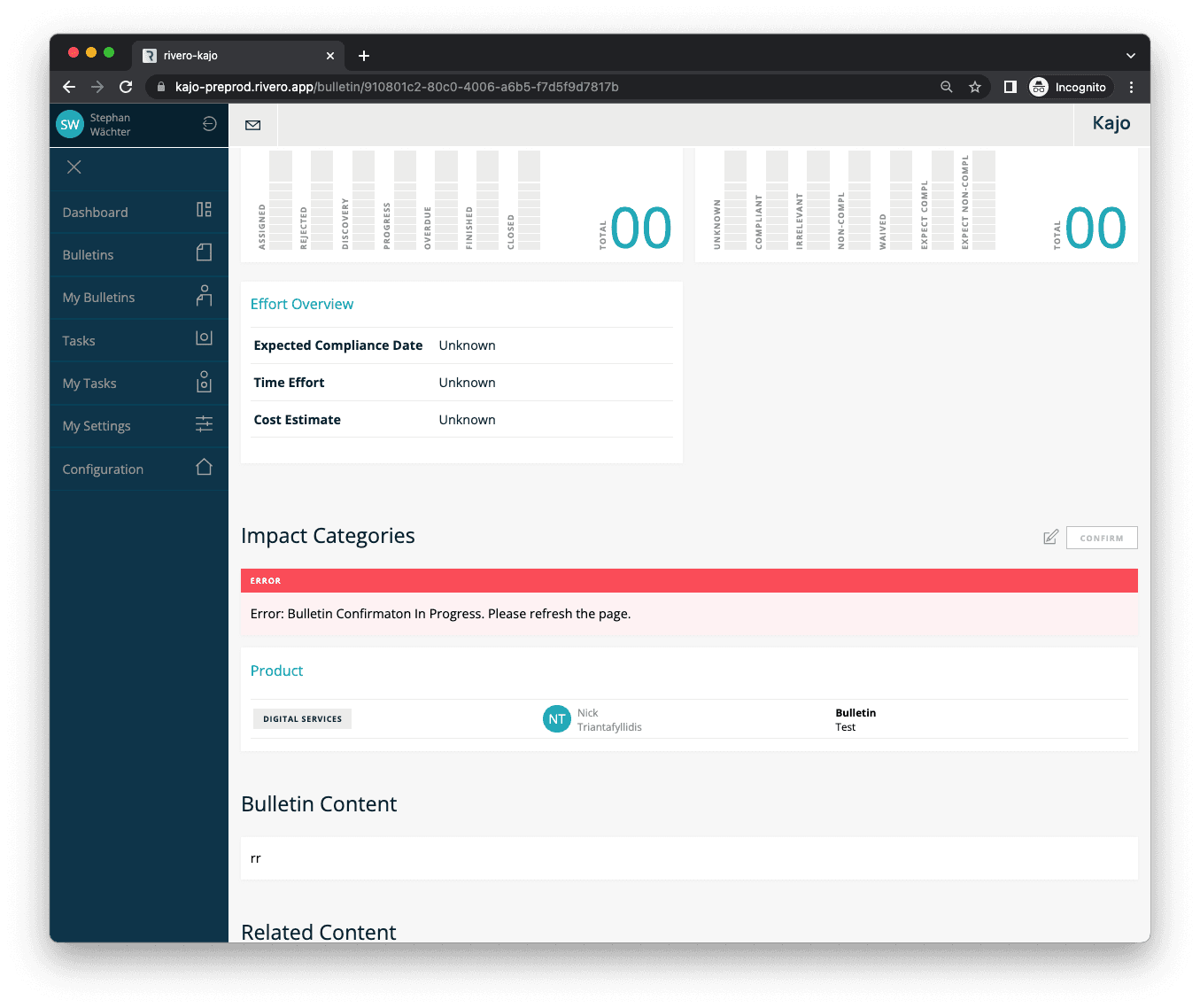 We observed that on some rare occasions creating tasks took a bit longer when you confirmed a bulletin. When this happens we will now show you a message and guide you to refresh the page
15.6.2022
Persisting list position and keyword search
Persisting list position and keyword search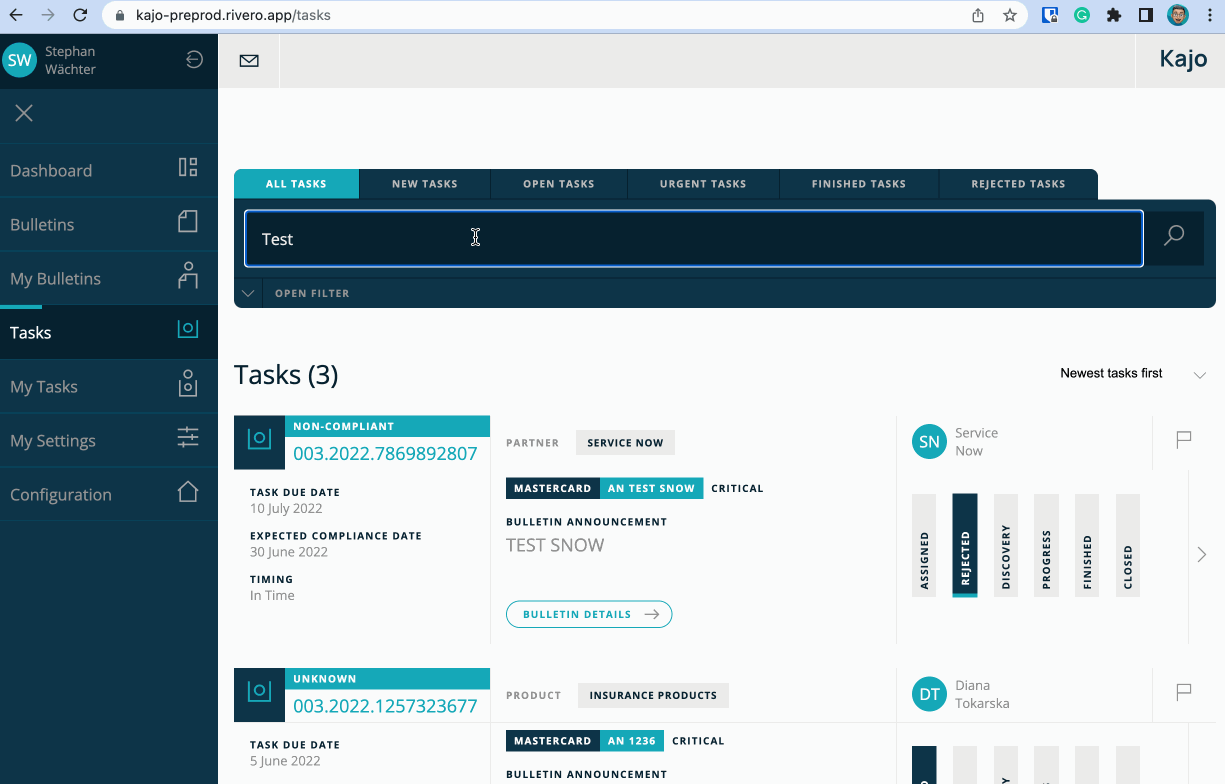 Navigating from the list to the bulletin or task and then back again was a bit of a hassle in the past. The position in the list jumped back to the top, and any keywords you searched for disappeared. Whit this change, we now persist both things and make your life a little bit easier when navigating through Kajo.
Improvements
We improved the performance of Kajo and make things run smoother and faster. We also deployed a new mechanism in order to make our releases even faster so that you can get back to using Kajo in (almost) a heartbeat
31.5.2022
Additional filter for My Tasks list
Assignee selector added to My Tasks filter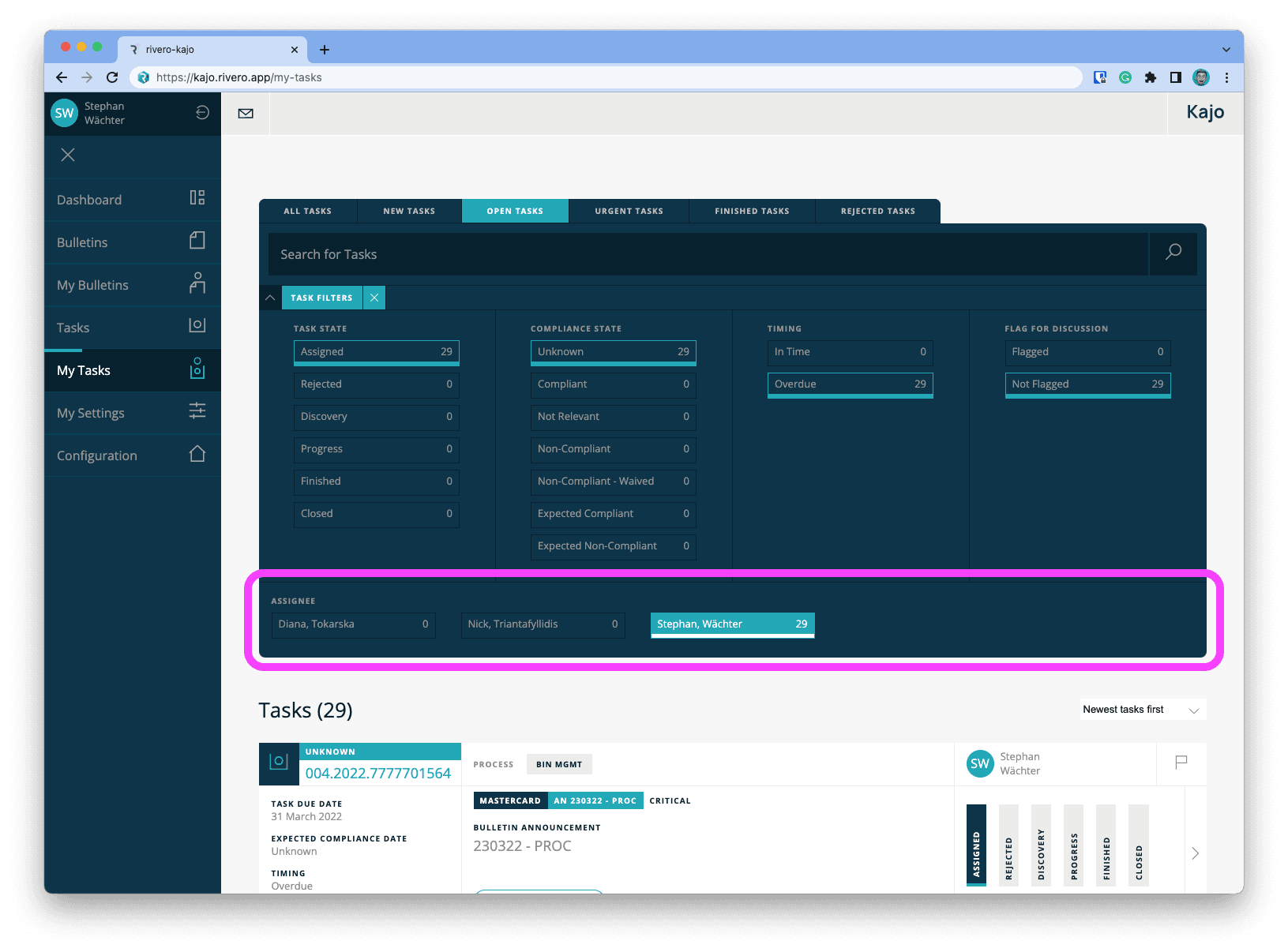 A while ago we updated the My Tasks list so that also tasks are shown for which the user has a deputy role. In order to make it easier to filer out tasks related to your user, we added support to filter for the task assignee.
New logo for Rivero 🥳
We have a new logo and updated all related artwork.
17.5.2022
Open bulletins in a new tab
Open bulletins in a new tab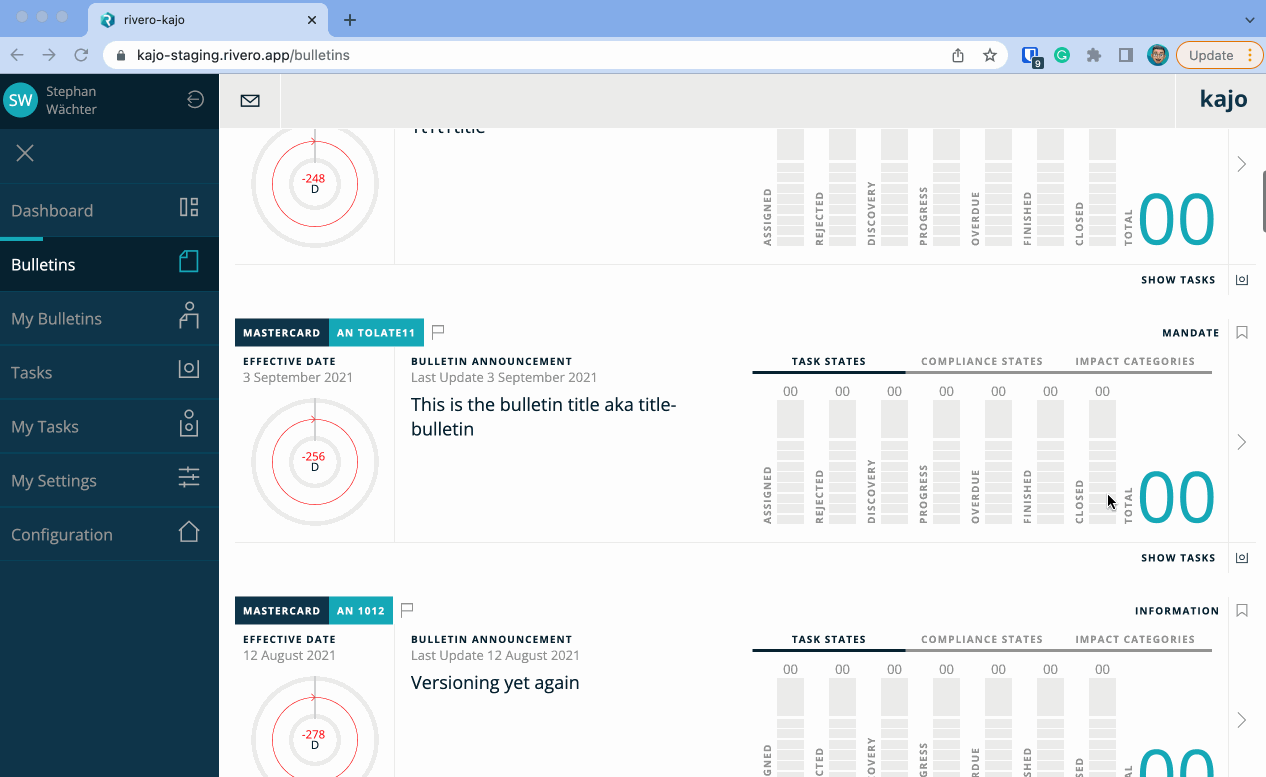 We added support for the right mouse click for the bulletin list to quickly open the bulletin in a new tab.
New user role: 3rd party
Kajo makes it easier to share tasks with 3rd parties. The new role has a restricted UI that let's such users access their tasks but restricts access to other tasks or the bulletin view itself.
Configuration page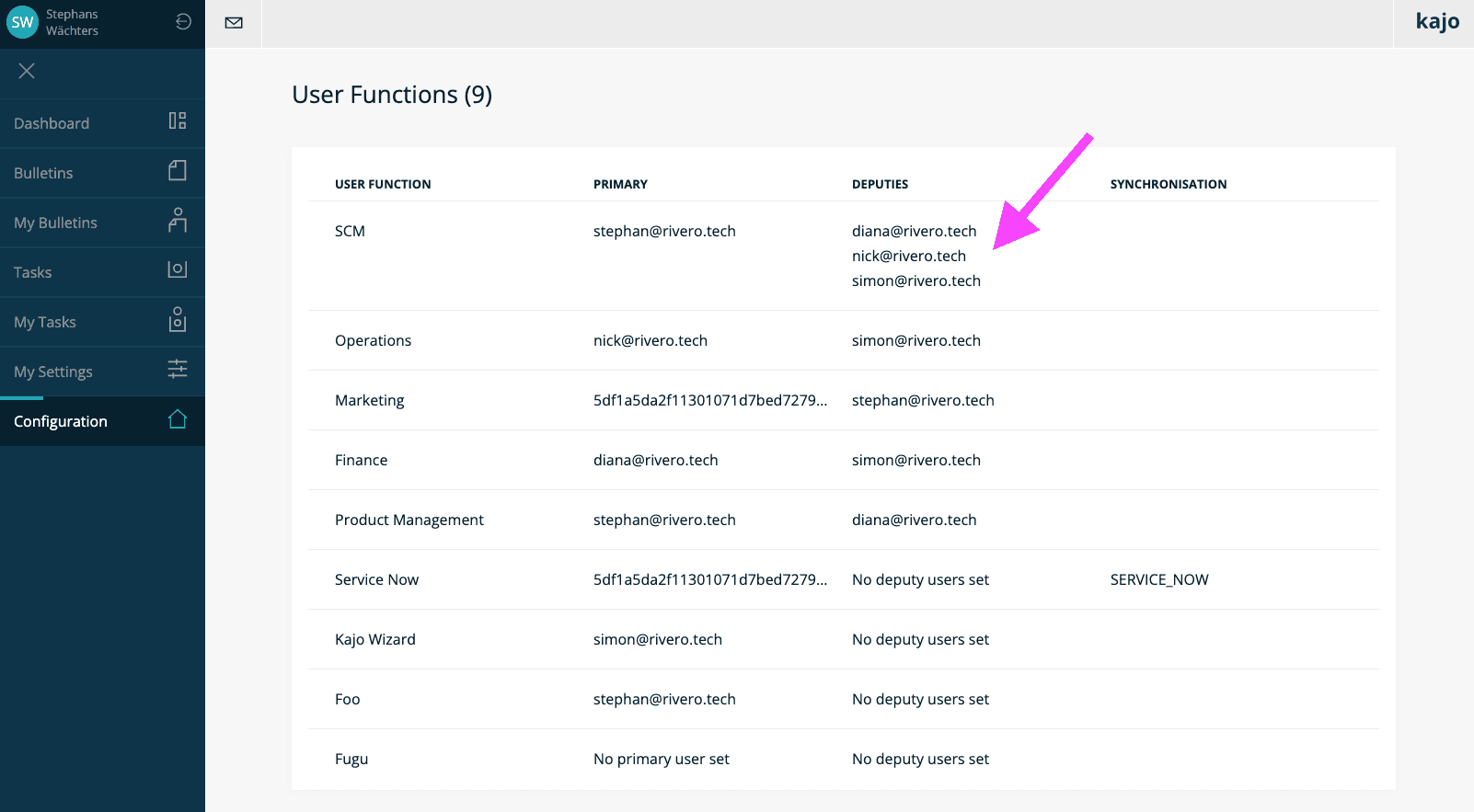 The User section on the Configuration page now shows the full list of deputy users. Previously only one deputy user was shown. We fixed an issue that prevented customers from confirming a bulletin when a user function didn't have a primary user set
Task and task list
We fixed an issue that made task for which the user is a deputy to be shown in the dashboard data. We improved the "Tasks" list. The filter for users will now only return tasks linked to the selected primary users.
6.4.2022
New bulletin subscription based on categories
New bulletin notification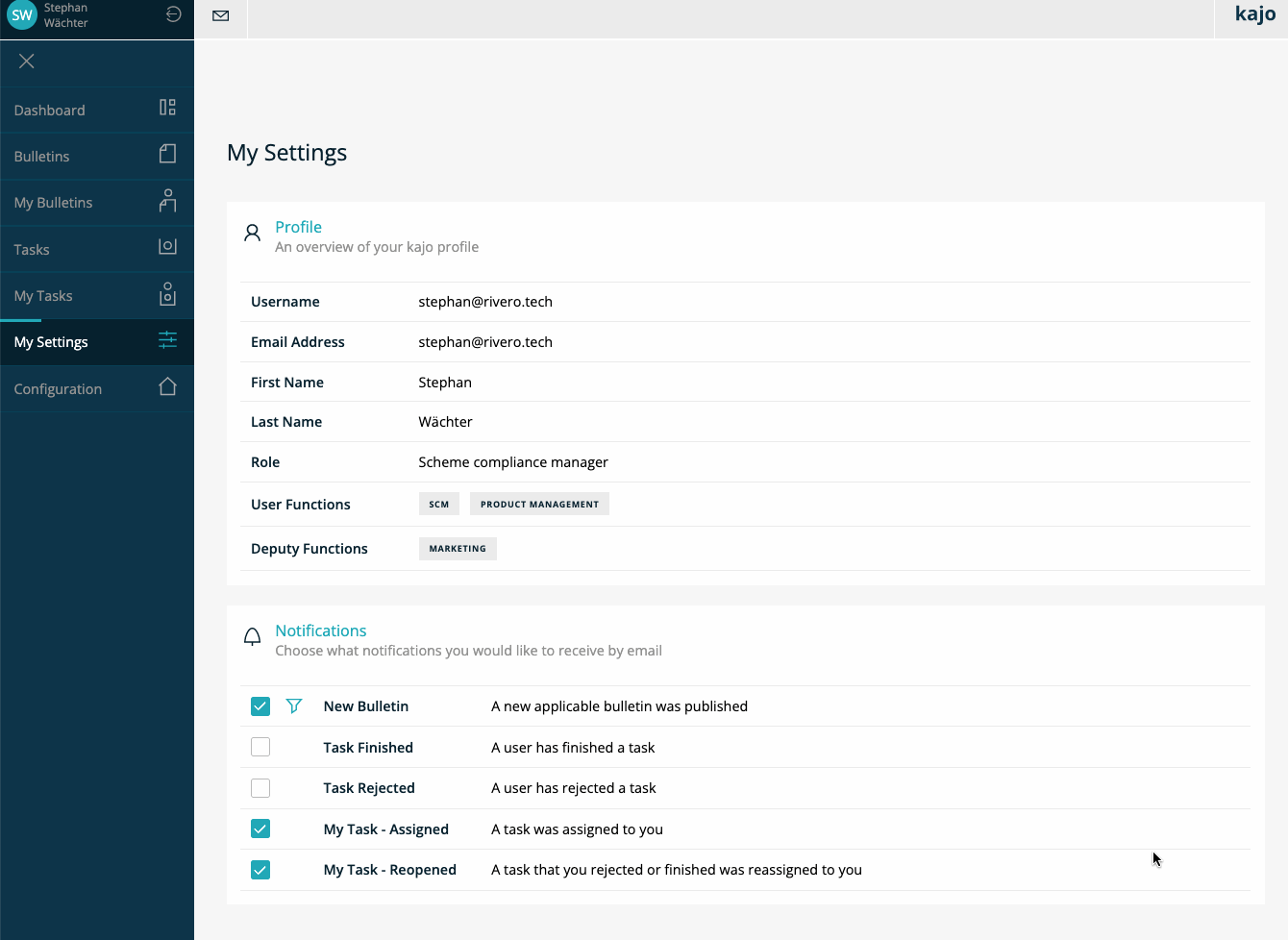 It is now possible that Kajo users can select the impact categories for which they would like to receive a new bulletin notification. Then, whenever a bulletin is published that matches the chosen categories, Kajo will send you a notification.
My bulletin and task for deputy users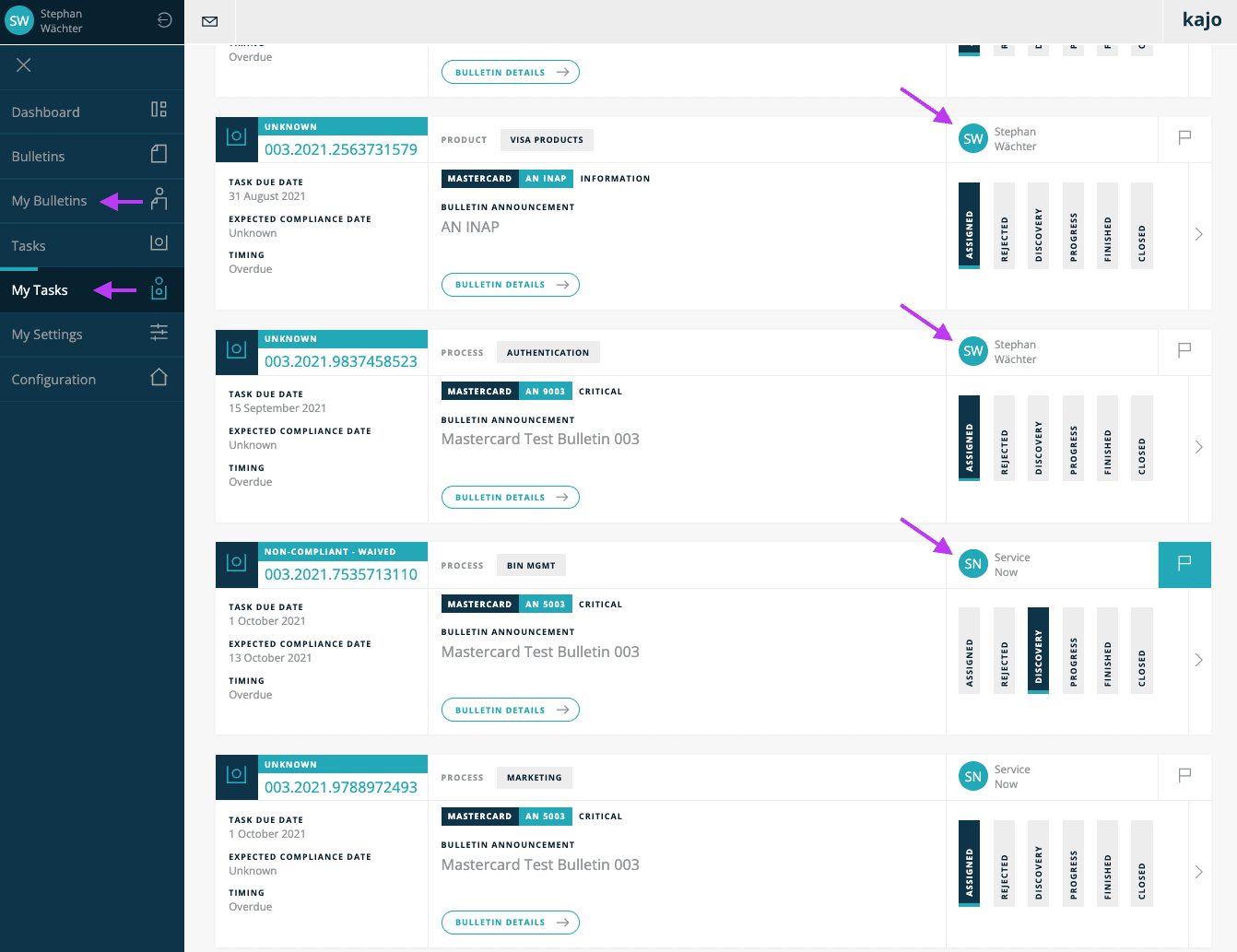 We have updated the My Bulletin/My Task lists and added support to show bulletins and tasks for which the logged-in Kajo user is not only a linked primary user but also a deputy user. This improvement gives users a complete overview of all bulletins/tasks they have an active stake in.
Support for multiple deputies per user function
Kajo now allows customers to add more than one deputy user per user function. It is beneficial for bigger teams where multiple people are involved in working on Kajo tasks. If you want to benefit from this feature, then please get in touch with us at kajo@rivero.tech and send us your desired changes so that we can update your Kajo framework. Scheme Compliance Manager should note that the configuration view in Kajo will be updated in a future release in order to make the multiple deputies visible. Currently, Kajo only shows the first deputy user in the configuration UI.
Improvements
We have updated several underlying components that power Kajo in the background. As part of these updates, some users that recently accessed Kajo can get a "403 - forbidden / access denied" response when they try to log in again. To resolve this issue, Kajo users are advised to access their browser's cookie settings and delete the kajo.rivero.app cookies. For Kajo users using chrome, type the following into the address bar to find your cookies: chrome://settings/siteData?searchSubpage=kajo